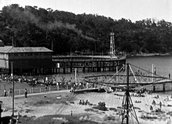 Chas E Blanks: Families at Seaside, Sydney Harbour (c.1930)
The beginning of the clip with the large curved swimming baths is Clifton Gardens. The middle section of the clip (18 to 37 seconds) is a very crowded Neilson Park, however that section of the film has been spliced back-to-front (or possibly the entire clip is back-to-front). The ferry wharf at Neilson Park was at the western end of the beach.

#1 from GrenadierGuardsDmr – 10 years, 2 months ago.
To comment on this title, you need to be
logged in
.

RSS – Subscribe to an RSS feed of comments on this title. (learn about RSS)