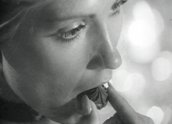 Cadbury Dairy Milk Chocolate – 'For All the Different Women You Are' (c.1970)
Synopsis
This 30-second black-and-white television advertisement for Cadbury's Roses chocolates dates from the late 1960s or early '70s.
Curator's notes
The Cadbury's Roses line of boxed assorted chocolates was introduced in the 1930s to compete with the market of 'twist wrap' assortments. While the box design has changed over the years (compare Cadbury Dairy Milk Chocolate – 'Give Her Roses', 1959, and Cadbury Dairy Milk Chocolate – 'You've Got Yourself a Man', c1970) and the flavours have diversified, the Roses 'twist wrap' chocolates remain as distinctive as ever.
Comparing the different Roses commercials provides a good overview of how the marketing of a product changes and is informed by the social customs and fashions of the era. For instance, the light-hearted, romantic style of Give Her Roses stands in marked contrast to the sexy and seductive tone adopted in this advertisement.