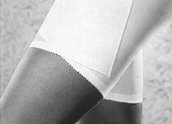 Berlei Underwear TV Advertisement: Sarong Body Magic (1968)
Synopsis
This black-and-white television advertisement for the Berlei 'Sarong Body Magic' girdle demonstrates the wonders of a girdle that adjusts to the figure, no matter what your shape.
Underwear that can adjust to the figure and hold in 'unsightly' bulges is the magic quality that this Berlei product displays.
Curator's notes
Unlike other advertisements for Berlei foundation garments, this brief 30-second ad only shows part of an unidentified woman's figure – from the waist down – to illustrate the benefits of Berlei's 'Sarong Body Magic' girdles. However, Berlei's products are known for accommodating women of all shapes and sizes and the emphasis is on the ability of the girdle to adjust to each individual figure.
Australian company Berlei has been a well-known name in corsetry and lingerie since the 1920s, and was founded by Fred Burley.
Artransa Productions, or Artransa Park Studios were a Sydney radio production house that went into television in 1956. They produced hundreds of advertisements from the 1950s to 1980s including advertisements for Streets icecream, Maxwell House coffee, Ajax spay cleaner, Brylcreem and Bulimba light beer.