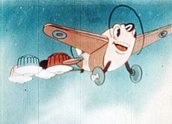 Aeroplane Fruit Jellies Advertisement: Bertie the Aeroplane (1942)
Synopsis
This animated cinema advertisement for Aeroplane Fruit Jellies shows how little Bertie the Aeroplane reveals to the world the mystery of flying saucers.
Curator's notes
Aeroplane Jelly has been around since the 1920s and by the time this advertisement was made, over eight million packages of Aeroplane Jelly crystals were sold annually. Animated Bertie the Aeroplane (later known as Bertie the Jet) is a lovable character, and in this advertisement the audience follows him in a coming-of-age story as he overcomes his fears and solves the mystery of flying saucers.
Frank Leonard (Albert Francis Lenertz), partner in the Aeroplane Jelly Company with founder Bert Appleroth, wrote the words and music for the jingle that made Aeroplane Jelly famous. In the late 1920s aeroplanes were considered very new and high-tech and, being a big aviation fan, Appleroth decided to call his product Aeroplane Jelly. One of the lyrics in the Aeroplane Jelly jingle says 'the quality's high as the name would imply'. The jingle was recorded in 1938, and was sung by seven-year-old Joy King, who had won a talent quest to record the official version of the song. This recording is still used today (see Aeroplane Jelly Song, 1938).
This advertisement was produced by Eric Porter Studios, an animation and production company run by Eric Porter. Porter himself was an animator and the drawing of Bertie is his creation. In 1972, Porter produced and directed Australia's first animated feature film, Marco Polo Junior Versus the Red Dragon.
The film negatives for Bertie the Aeroplane were deposited with the National Film and Sound Archive by Cam Ford. Ford was an animation director in the '60s and '70s and worked for several years in Europe. He was one of several Australian animators employed on the Beatles feature, Yellow Submarine (1968).