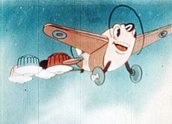 Aeroplane Fruit Jellies Advertisement: Bertie the Aeroplane (1942)
maaad

#1 from ICEYent – 12 years ago.

I think this is more likely to date from 1952, not 1942. The flying saucer craze was very much a post-war obsession. In 1942 there were more pressing concerns for the 'whole world', that even Bertie the Aeroplane might have been worried about.

#2 from Tim58 – 9 years, 5 months ago.

Hi Ho, Everybody....I'm thinking that the Late Great Jack Davey, is doing the VO for this clip :)

Cheers Cj

#3 from Cj – 4 years, 6 months ago.
To comment on this title, you need to be
logged in
.

RSS – Subscribe to an RSS feed of comments on this title. (learn about RSS)