Giorgio Mangiamele
13 August 1926 – 13 May 2001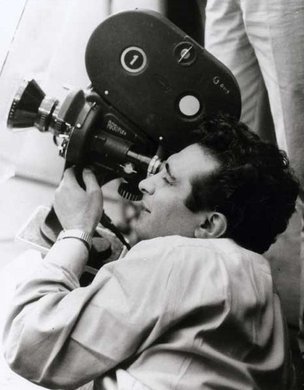 See also
Related people
Related events
NFSA Historian Graham Shirley on the life and work of Giorgio Mangiamele, a filmmaker ahead of his time.
A year after he had arrived in Australia in 1952, Giorgio Mangiamele, a young Italian immigrant, began making an ambitious, hard-hitting feature film based on the experiences of his fellow migrants. The film was Il Contratto (or The Contract). Influenced by recent Italian neorealist classics like Bicycle Thieves (1948), it was a feature film very different to those made in Australia before. The fact that Mangiamele made Il Contratto in the way that he did, when he did was not only remarkable but also heralded content and stylistic changes in Australian cinema at least a decade before other filmmakers began their own aesthetic challenges to what survived of an emaciated local production industry. This would remain typical of Mangiamele, a filmmaker always ahead of the pack in crafting films that expressed a unique artistic and social point of view. Today, as his work reaches new audiences, interest in Mangiamele steadily grows.
Giorgio Mangiamele made his most impactful films on themes of the isolation, loneliness, racism and claustrophobia felt by many of Australia's Italian migrants. But after making five films on this subject, he sought after 1963 to tackle broader topics that would consolidate his reputation as a film artist and to help rebuild a viable Australian feature film industry at a time when the industry itself was virtually non-existent. Mangiamele made his most notable films at a time when the very idea of a film artist working in Australia was in its infancy, and his feature film Clay (1965) was the first fully Australian-funded feature of significance after Lee Robinson's Dust in the Sun (1958).
Born in Catania, Sicily on 13 August 1926, Giorgio Mangiamele was the son of a toymaker. He was keen on drawing and painting as a child but bought his first still camera after he decided that 'painting was too slow' and that cameras were able to catch 'that fraction of a second'. After leaving school he studied fine arts in Catania and joined the State Police in Rome. As a police still photographer for the Polizia Scientifica (Police Forensics), he captured images of crime scenes including fingerprints. He also learned the essentials of filmmaking by shooting 16mm surveillance footage of demonstrations and riots intended for screening to magistrates in court. During his fifth year with the police, Mangiamele studied journalism at Rome University, 'learning to see the essentials, to use the minimum of words', a principle he was to apply to his Australian filmmaking.
In 1952 Mangiamele boarded the Castel Felice to migrate to Australia. At the Rushworth Migrant Camp in Victoria he met Dorotea Hofmann (born 20 May 1922, in Leipzig, Germany), whom he married soon after he began work as a typist at Melbourne's Italian Consulate. His initial weekend job of taking Italian community wedding, party and portrait photos proved so successful that within two years he was running a full-time photographic business.
In 1953 Giorgio Mangiamele directed and appeared in his first feature film, the 90-minute Il Contratto, on a ₤500 budget. The story tells of four Italian migrants thrown on their own resources after being brought to Australia on a two-year government work contract from which no work materialises. Its plotline of the setbacks, loneliness and solidarity among young, newly-arrived men was drawn from the stories that Mangiamele had heard from the Melbourne Italian community around him. The film was shot without sound on 16mm stock with the intention of adding an Italian-language soundtrack later. But Il Contratto was never completed and the version that survives is a mute rough cut.
In 1957, the year that he became an Australian citizen, Mangiamele and actor-writer Robert (Bob) Clarke took over a struggling school for actors in Russell Street, Melbourne. During the early months that Mangiamele, Clarke and actor Margaret Dobson taught acting and filmmaking, they filmed on 16mm for the students to be able to judge their screen work. Material from this initiative was edited together as the now lost short, Unwanted (1958), which told of how racism derails a growing love affair between a recently arrived migrant (nationality not specified) and an Australian woman. Some of the school's students remained active in filmmaking, most notably Ettore Siracusa, who starred as the younger brother in Mangiamele's next film, The Brothers (1958), and worked thereafter as Mangiamele's assistant director.
The Brothers, also produced at Mangiamele's school, was the story of a young man who pulls back from committing theft and murder after his older brother has stolen money from an employer. Mangiamele entered the film in the first-ever Australian Film Institute (AFI) Awards in 1958. He made two versions of his next film, The Spag (1962). Where the first, unreleased version featured an Italian motor mechanic who dies after enduring savage racism, the second depicted an Italian paperboy's persistent bullying by three Anglo thugs who cause the central character's death. The released version of The Spag won an Honourable Mention in the 1962 AFI Awards, the judges calling it 'a remarkable attempt at creative filmmaking'.
Where all his previous films had been made in 16mm, Giorgio Mangiamele made his next, Ninety Nine Per Cent (1963), in 35mm in a bid for commercial cinema release. But he said that making money was still not paramount for him at this stage, as he told Melbourne's UFG Bulletin: 'The film was made to express my feelings, not for commercial distribution … but I may be able to get a bit of money back.'
The 47-minute Ninety Nine Per Cent (1963) was Mangiamele's only comedy, again with loneliness and alienation at its heart. The last Mangiamele film to deal with migrant themes, it tells of an Italian immigrant widower who visits a marriage agency to find a woman to marry him and be a mother to his school-age son. Ninety Nine Per Cent blends the influences of Italian stage farce and the knockabout comedy of silent era and silent-influenced films including the 1940s–'60s features of French director-actor Jacques Tati. But while Il Contratto and both versions of The Spag had portrayed a largely uncaring Australian society, the challenges faced by Pino, the antihero of Ninety Nine Per Cent, are mostly those of overcoming the disconnect between himself and everyone around him including his son.
By 1963 Giorgio Mangiamele, his wife Dorotea and their daughters Suzanne and Claudia had been living for some years above his photographic studio at 344 Rathdowne Street, Carlton. UFG Bulletin's writer, visiting the studio that year, wrote that it resembled 'any other of its type except for the extraordinary beauty of the photographs displayed around the walls – portraits and street scenes, each showing a great depth of feeling'.
Of all of Mangiamele's films, the depth of feeling the UFG writer had noted was most strikingly expressed in Mangiamele's second 35mm film, the feature-length Clay (1965). Costing ₤10,750 and shot over a seven-week period at the Montsalvat artists' colony in the Melbourne suburb of Eltham, Clay employed a mixture of Australian and European-born actors in a story of a man on the run from police who falls in love with the woman who shelters him. Mangiamele mortgaged his home and studio to make the film, and eight of its actors and technicians contributed to the budget by agreeing to accept payment when the film moved into profit.
In 1965 Clay was chosen for competition at the Cannes Film Festival, where it was acclaimed for its visual potency. Nice-Matin wrote: 'The whole work is carried on its visual impact. One feels, from one sequence to the other, the effort of a filmmaker very much involved, an effort which elevates him as an exponent of the Fine Arts.' The Los Angeles International Press Bulletin wrote: 'When the world produces an artist who is capable of transferring to the screen a new conception in photography the least the film industry can do is to render him recognition.' Back in Australia Clay won the Silver Award, the Silver Medallion and Kodak Silver Trophy at the 1965 AFI Awards. But in the face of film trade apathy, Clay failed to find an Australian commercial release, and it was Mangiamele who in 1966 rented Melbourne's St Kilda Palais to give Clay its sole Australian public season. The ABC bought the rights to screen Clay but cut the film to fit a 60-minute timeslot.
Following Clay's commercial disappointment, Giorgio Mangiamele made no more films until Beyond Reason (1970). With this film he was determined to find mainstream success by filming in colour, using seasoned writers and ingredients of what Script, Screen and Art magazine called 'sex, hate and violence, under abnormal conditions, expressed by abnormal people'. The plot of Beyond Reason covers the interaction between staff and patients of a mental institution when they are accidentally locked in an underground bunker after the start of atomic warfare. Mangiamele was unhappy with the film, recalling later: 'I had no time to make the images look good. It was shot in a couple of weeks for TV'. While Columbia Pictures gave Beyond Reason a limited release in Australia and New Zealand, the film returned nowhere near the $130,000 spent by Mangiamele and his private investors.
Mangiamele continued to earn a living as a portrait and event photographer. He also worked as a cinecameraman for Tim Burstall, shooting for that director 13 episodes of the Sebastian the Fox (1963) TV series, and documentaries on the artworks of Gil Jamieson and Matcham Skipper. In 1964, for producer Ron Mason of Academy Film Productions, he directed, photographed and edited Boys in the Age of Machines, an 18-minute documentary about the working conditions and prospects for apprentices in the metal trade industry.
In 1970 Dorotea Mangiamele established Mangala Studios of Yoga and Creative Dance, and in 1977 she and Giorgio were divorced, seven years before Dorotea's death from cancer. In New Guinea on 8 December 1979 Giorgio married occupational therapist Rosemary Cuming (born 19 October 1943, in Melbourne) a year after they first met in Carlton. Mangiamele had travelled to New Guinea in June 1979 and until 1982 made five documentaries on contract to the Papua New Guinea Office of Information. These films were promotional as well as educational, with one, the 54-minute Sapos (1982), being made in PNG pidgin language. During this time Mangiamele also trained a PNG crew in all aspects of filmmaking, forming the basis of an ongoing PNG government film unit.
Mangiamele planned to make more films, but the kind he wanted to make were at odds with post-1970 government funding bodies who reduced their support for experimental cinema in favour of a more commercial approach. Aside from his involvement in the Australian Cinematographers' Society and the Producers and Directors Guild of Victoria, he was an industry loner who interacted little with the key industry practitioners who might have helped him. Mangiamele's determination to remain an independent creative spirit who retained full control of his films had something to do with this. His few remaining film connections included occasional lectures for film courses, work as a stills photographer on Scott Murray's Devil in the Flesh (1985) and his writing of scripts that he intended to take into production. Having suffered for a year from motor neurone disease, he died on 13 May 2001.
Giorgio Mangiamele's work has left an expanding legacy. Interest has grown in his pioneering the making of 'art' films in Australia as well as the strong and direct way in which he tackled immigrant themes at a time when other filmmakers took a more benign, even celebratory view of this major postwar change to Australian society. Scholarly interest in Mangiamele's films has also evolved, and his widow Rosemary has developed a substantial and highly-regarded career as an intuitive abstract painter, citing inspiration from Giorgio Mangiamele among her key influences.
External Links
Citations
'Clay: A New Local Feature' (1964)
Bennett, Colin
The Age, 12 December 1964, p 37
'Italian Film Maker in Carlton' (1962)
Bennett, Colin
The Age, 25 August 1962, p 19
'Giorgio Mangiamele', interview (1992)
Cutts, Graeme
Cinema Papers, No. 90, October 1992
'Films on a Shoe String' (1961)
Hannan, W
The Bulletin, 14 October 1961, p 9
'The Film Man of Rathdowne Street' (1965)
McKay, Andrew
The Herald (Melbourne), 27 March 1965, p 6
'Giorgio Mangiamele – A Creative Isolationist' (1963)
Unknown
UFG Bulletin, No. 5, p 9
The Giorgio Mangiamele Collection: Five Provocative Works From an Italian Filmmaker in Post-War Australia (2011)
Various (Gino Moliterno, Gaetano Rando, Graham Shirley and Quentin Turnour)
Booklet from Ronin Films and NFSA DVD Box set