George Wallace
4 June 1895 – 19 October 1960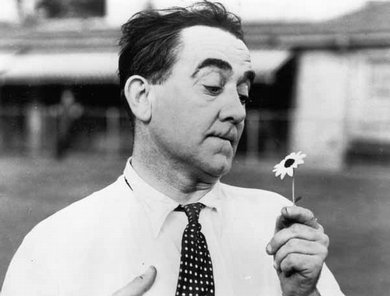 See also
Related people
George Wallace wasn't just an Australian comedian, he was the Australian comedian for much of his lifetime. Feature films curator Paul Byrnes pays tribute to the man who kept Australians laughing through the darkest days of the Great Depression.
There were three giants of vaudeville comedy in the 1920s – the other two being Jim Gerard and Roy Rene – but only George Wallace made a successful transition to movies. And after the Second World War, when there were few movies to star in, he had success in radio and nostalgic stage musicals. Although barely schooled, he wrote all his own material as a vaudevillian, which he later turned into scripts for his movies. He could sing and dance, play several musical instruments and one of his songs became a popular patriotic favourite during the Second World War ('A brown slouch hat'). He was a talented painter and caricaturist. He could do everything, it seems, but be serious. Late in his career, when work was scarce in Australia, he went to London to perform as a comedian. It was one of the only times he failed. English audiences in the early 1950s were not yet used to the Australian accent and they found him difficult to understand. That's a telling story: Wallace was the most Australian comedian of his generation, with a command of vernacular Australian English that has all but disappeared from our culture.
Wallace was never a 'blue' comedian. His characters were usually innocent and childish men, who lived near the bottom of the social pile. He played hicks and yokels, farm boys and animal keepers. His clothes rarely fitted, women ignored him and called him fat, but he was resourceful and game when pushed. Ken G Hall, who directed Wallace in two of his best films, said he was the best comedian Australia had produced. There is room for debate about that: Roy Rene, as Mo, has a strong claim to that title, and Hall was blinkered about Rene, after the relative failure of their only film together (Strike Me Lucky, 1934). Hall also called Wallace 'the people's comedian', and that is certainly true. During his heyday, from about 1922 to 1945, Wallace was one of the most loved – and highest paid – comedians in Australian show business. His death in 1960 was a major event in Australia, the passing of a comedy giant.
A family of comedians
George Stevenson Wallace came from a family of comedians. His father was 'Broncho' Wallace, a veteran of black-face minstrel shows. His grandfather was an Irish comic called 'Pipeclay' Wallace. George was born 4 June 1895 in Aberdeen, New South Wales, but the family moved around a lot in touring shows. George was on stage from age three, part of the family act until his parents divorced. At age four, he is said to have entertained sailors and wharfies on the docks at Pyrmont in Sydney with his singing and dancing. His mother Kate Scott remarried and George found himself out of favour in the new family. At age 12 he started working in his stepfather's ink and varnish factory, which he disliked. He wanted to go bush, like the characters in his favourite stories by Henry Lawson. His stepfather arranged a job on a dairy farm at Bangalow in northern NSW. George drifted north acquiring a range of skills: horseman, canecutter, marksman, boxer, blacksmith. At 16, working at a sugar mill in Mackay, he auditioned for 'Happy' Harry Salmon, a travelling showman, who gave him a job as a comic and general hand. He had found his niche on stage.
Early in 1919, newly married to Rita Nicholas, a barmaid he met in Queensland, he was appearing at the Newtown Bridge Theatre, part of Harry Clay's vaudeville circuit. Rita and their two-year-old son George Junior were part of the act, although briefly. She quit after five weeks. 'I was very nervous on stage… and I had no-one to look after young George', she said in the 1999 documentary Funny by George: The George Wallace Story. Wallace then linked up with Jack Patterson in a 'drunken duo' act. 'Dinks' and 'Onkus' were inspired by the success of Roy Rene and Nat Phillips as 'Stiffy' and 'Mo'. Rene was only four years older than Wallace, but he had been appearing in vaudeville since 1908, when he was barely 17. Stiffy and Mo first appeared in 1916 and were an enormous hit, playing the prestigious circuit of theatres owned by the Fuller brothers. Wallace and Patterson played the less prestigious and rowdier Clay circuit, but they were Clay's top act for almost five years, until the act split. Wallace then joined Fuller's circuit, for the then considerable wage of £20 a week.
The extent to which Wallace was influenced by Rene is hard to say: they had very different styles, but Rene was certainly the bigger star in the early-to-mid 1920s. While Rene also used the broad Australian vernacular, his comedy was more urban and raunchy and drew on the traditions of Jewish comedy. Wallace was more influenced by the traditions and stories of the Australian bush, and by the comic invention of Charlie Chaplin, whose movies began arriving in Australia during the First World War. Wallace's costumes, in particular, suggest Chaplin's influence, but there is a lot of Chaplinesque physicality in the way he fell about on stage and later in movies. Wallace seems to be acknowledging Chaplin's influence directly in a scene from A Ticket in Tatts (1934, see clip two), where he plays a clumsy waiter. Chaplin used a similar character in his first films in the US in 1914.
Enter Efftee
Australia's vaudeville circuits were already in decline by 1927 when the coming of sound on film ('the talkies') and the rise of the Great Depression killed them stone dead. Vaudeville theatre disappeared, but it lived on in some 1930s Australian movies – notably those of George Wallace. The first three of these were directed by Melbourne impresario Frank W Thring, but Wallace should be credited with an equal role. He adapted his own vaudeville shows, and it is likely that he and Thring collaborated on the direction. Thring founded Efftee Film Productions in Melbourne in September 1930, leasing His Majesty's Theatre in Melbourne as his studio. He couldn't afford to hire any big-name directors from America, so he did it himself, using expensive sound equipment acquired in the US.
FW Thring filmed over 80 short subjects in the three years of Efftee production, bringing in many theatrical talents to perform at his studio. One of these was Wallace, and we see in clip one ('The dance of the startled fowl') of George Wallace: Australia's Premier Comedian (1931) the earliest sound film representation of his vaudeville persona. It gives us a good idea of how brilliant Wallace had already become. Notice the timing of both his address to the camera and then his comic dance: in both, he adopts the guise of a rank amateur trying to look professional. He looks like a small boy performing a routine in a country eisteddfod – except that he also sounds tipsy (perhaps a hangover, if that's the right word, from the days playing Onkus). The dance timing is far more athletic than we expect, incorporating a series of complex 'flying' moves and a lot of jazz syncopation that's brilliantly coordinated with his pratfalls. Wallace was famous for falling on his left ear and we see that in his second fall, where he appears to trip himself. He used these manoeuvres over and over in his films, both for Thring and later in the two films he made for Ken Hall.
Comic royalty
Wallace's first feature film was His Royal Highness, released in 1932. Two more followed in quick succession: Harmony Row (1933) and A Ticket in Tatts (1934). All of them were based on vaudeville shows that Wallace devised in the 1920s. Clip one of His Royal Highness (1932) is virtually a redo of the earlier routine from the 1931 short, with a different story cleverly told. Roy Rene is said to have failed in film because he had no live audience; Wallace stages this routine in a theatre, so that he can pretend he has one. Again, the timing is superb – in the way he emphasises certain phrases, such as 'arguing the point', or the one-sided conversation with his father, which has a long but effective pause before the words 'and he said, yes you are'.
Wallace's characters evolved by subtle degrees through his film career, but the performances in Efftee films give us the clearest example of what he was like in the 1920s in vaudeville. Clip three of Harmony Row (1933) shows him fighting a boxing match: the guffaws of the audience can be heard clearly on the soundtrack. This clip also shows a clear debt to Charlie Chaplin, particularly in the way his character loses his temper and hits innocent bystanders, then himself. Raymond Longford worked as an 'associate' on both of these films. The poet CJ Dennis worked on the scripts, but none of this seems to have rubbed off on Thring's simple camera style. The direction of these three films is rudimentary, even if the comedy is not.
Cinesound star
Thring died suddenly in 1936. Ken G Hall, director of the rival Cinesound Productions, then offered Wallace a new studio and a new approach. Let George Do It (1938) and Gone to the Dogs (1939) are more lavish and cinematic productions, in which Hall tried to broaden his roles, while retaining his essential characteristics. 'I wanted him in action comedy', Hall wrote in his book Directed by Ken G Hall (1977). Let George Do It (1938) is usually seen as Wallace's best film – as in the best film created for his talents. That's probably true, although Wallace performs well in all of the 1930s films, and he was probably never better as a film comedian than in his first film, His Royal Highness (1932). Clip one of Let George Do It (1938) is a clear throwback to his vaudeville routines; clip two might also be seen as backward looking, because it suggests how he might have been as part of Dinks and Onkus, his 1920s drunk act. In Gone to the Dogs (1939), Wallace is featured in a spectacular singing and dancing routine with children, dogs and back-up singers on bicycles. This was the only time in Wallace's film career in which he danced with an ensemble – and the most elaborate musical sequence in any Cinesound film. It was also the last film he made at Cinesound.
Wallace's 1930 comedies give us a good sense of how great a comedian he was. They remain the best comedies of their time in Australian cinema. His success predated the Great Depression, and it is probably true that his films were more successful because of it. He gave Australians a laugh when it was most needed, through a series of characters they could recognise. He was the most Australian comedian of his generation, in terms of language and gesture, and the most physically gifted. His characters were too humble to be proud; they remained childlike, stuck in their own innocent worlds, buffeted by larger forces.
The drums of war were sounding. All production of features at Cinesound would cease in 1940, after Dad Rudd, MP. Wallace's career declined after the war. He was only 50, but his health began to deteriorate, as public tastes changed. His lifestyle had never been temperate; even in the early 1920s, according to his first wife, he had shown a considerable appetite for women and backstage parties. That continued, in sometimes legendary proportions, throughout the 1930s.
He appeared in only two more films. Charles Chauvel cast him as comic relief in The Rats of Tobruk (1944), although he was never comfortable in the role. In 1951, he appeared as a stage manager in a musical biopic, Michael Gordon's Wherever She Goes. He had considerable success on radio in the 1950s – as did Roy Rene – but he suffered from severe bouts of depression, especially after his failure in England. He returned to his home in Kensington, Sydney, where he died in 1960, of emphysema and chronic bronchitis.
Wallace's career took off immediately after the horrors of the First World War, which may be significant in his rise. Australia had been confronted with the loss of its innocence in that war, but George Wallace offered audiences a glimpse of the way we were, before. He died before television could revive his memory for later generations. The films he made are the only record we have of his greatness.
External Links
Citations
Directed by Ken G. Hall: autobiography of an Australian film-maker (1977)
Hall, Ken G
Publisher: Melbourne : Lansdowne Press ISBN 0701806702
Funny by George (1999)
Percy, Don, director
Onkus Pictures
Australian film, 1900-1977: A Guide to Feature Film Production (1998)
Pike, Andrew and Ross Cooper
Melbourne: Oxford University Press ISBN 0195507843
Australian Cinema: The First Eighty Years (1989)
Shirley, Graham and Brian Adams
Sydney: Currency Press ISBN 0868192325
Theatre in Australia (1978)
West, John
Publisher: Cassell Australia ISBN 0726992666