David Gulpilil
1 July 1953 – 29 November 2021
Indigenous nation: Yolngu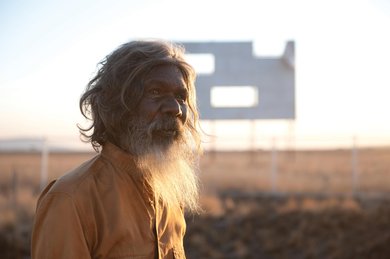 See also
Related people
Related events
Liz McNiven looks at David Gulpilil's 40-year career and the profound impact he has had on Australian film.
David Gulpilil changed the way the Australian screen represents Aboriginal peoples and their cultural heritage. He brought the realism of ethnography into his portrayal of Aboriginality, replacing earlier derogatory and degrading representations of his people within Australian feature films. His presence also ended the reign of non-Aboriginal actors playing Aboriginal character roles.
As an actor, he reached the pinnacle of success in the 1970s with principal roles in a string of award-winning films including Walkabout (1970, directed by Nicolas Roeg); Storm Boy (1976, Henri Safran); and The Last Wave (1977, Peter Weir). He also starred alongside some of the best actors in the world, including Dennis Hopper in Mad Dog Morgan (1976, Philippe Mora). During this time, Gulpilil travelled the globe and mixed with world icons including Bruce Lee, Marlon Brando, John Lennon, Bob Marley and Jimi Hendrix.
In Walkabout (1970), Gulpilil embodied the stereotypical image of a 'traditional' Aborigine, untainted by western civilization. Over the course of his career, he transformed this constructed identity into a more nuanced and accurate representation of Aboriginality.
Born into one of the world's oldest continuous cultures, Gulpilil spent his childhood submerged within the customs and traditions of his peoples, the Yolngu, from Arnhem Land. Here he gained the skills, knowledge and expertise to take custodial responsibility for his country, to care for his family and to participate in cultural activities and ceremonies.
By the 1970s, the peoples of Arnhem Land were no strangers to film. From 1910 onwards they performed their cultural practices for a lineage of documentary filmmakers from Walter Baldwin Spencer, Donald Thompson and Charles Mountford to Cecil Holmes and Ian Dunlop. This background provided Gulpilil with an insight into audiovisual representations of Aboriginal peoples and cultures. It helped enable him to bring ethnographic imagery into feature films.
As a traditional dancer, Gulpilil adapted the precision, grace and agility of this art form into his acting. In all his films, Gulpilil infused his own cultural knowledge and identity into his characters. He portrays the demeanour, skills and knowledge of a man of high degree within an Aboriginal cultural context. Over the course of his career, he dignified and enriched the representation of Aboriginality beyond the understanding of any non-Indigenous scriptwriter or director. This new characterisation of Aboriginal masculinity gained widespread respect from the industry and audiences alike.
He introduced audiences to traditional practices and familiarised them with Aboriginal forms of inter-personal communication. In The Tracker (2002, Rolf de Heer), Gulpilil displays a mastery of silence. He uses Aboriginal sign and body language including subtle eye and facial expressions to convey meaning and sentiment. It is through this film and Rabbit-Proof Fence (2002, Phillip Noyce) that Gulpilil presented a new way of seeing and understanding Aboriginal peoples and their cultural heritage.
Like many successful Australian actors in the 1970s, Gulpilil appeared in numerous high-rating television series but he was always given the stereotyped role of the 'traditional Aboriginal' to play in episodes of Homicide (1976), Rush (1976) and Boney (1972–73).
Following a memorable role in Crocodile Dundee (1986, Peter Faiman), Gulpilil achieved formal recognition of his services to the arts in the 1987 Queen's Birthday Honours List, being awarded the Member of the Order of Australia. In 2001 he was awarded the Australian Centenary Medal for his service to Australian society, through dance and acting, in the Queen's New Year Honours List.
Many early Australian feature films not only presented non-Aboriginal people in 'blackface' but interpreted Indigenous cultures as primitive hocus-pocus, as seen in Wings of Destiny (1940, Rupert Kathner). This form of representation denigrated both Indigenous peoples and their cultural heritage. Even until the 1970s, non-Aboriginal people often played Aboriginal characters in blackface. A memorable example is Journey Out of Darkness (1967, James Trainor), where Australian actor Ed Devereaux in blackface played the Aboriginal character Jubbal and Malaysian-born singer Kamahl played the Aboriginal captive. Gulpilil's arrival on the big screen almost single-handedly changed this paradigm within the Australian film industry.
Jedda (1955, Charles Chauvel) provided a partial exception to this trend, casting Aboriginal actors Robert Tudawali and Rose Kunoth in lead roles but maintaining the overall superiority of the white characters. Tudawali from Melville Island in the Northern Territory starred in a number of films in the mid-1950s and early '60s. He died in 1967, three years before Gulpilil appeared in Walkabout. Gulpilil followed in Tudawali's footsteps, acting in numerous feature films, documentaries and television series. Like Tudawali, Gulpilil paved the way for other Arnhem Land actors to utilise their cultural knowledge and traditions within the film and television industry.
This influence may be seen in Ten Canoes (2006, Rolf de Heer), and Crocodile Dreaming (2006, Darlene Johnson). Johnson also made two documentaries in Arnhem Land: Gulpilil: One Red Blood (2002), a biography of Gulpilil, and River of No Return (2008), telling the story of Gulpilil's niece Frances Daingangan (also known as Frances Djulibing) who wants to become a famous actor like her uncle.
Gulpilil lives with his people in the Northern Territory and remains an inspiration to many Aboriginal people across the country. Through the trials and tribulations of his life he has remained true to his people, his culture and his identity as a Yolngu man. With a career spanning 40 years, Gulpilil's contribution to the Australian film industry is part of the history of both the Australian cinema and its representation of Indigenous Australians.
External Links