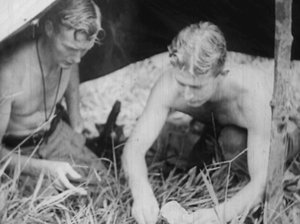 Anzac Day on 25 April is a day of commemoration for all those who served – and died – in military campaigns. It marks the anniversary of the first major military action fought by the Australian and New Zealand Army Corps in 1915, during the First World War.
This year the Department of Veterans' Affairs has produced a poster for Anzac Day highlighting the 70th anniversary of the Second World War Kokoda campaign in Papua New Guinea.
The Battle of Kokoda in 1942 was a significant moment in Australian military history. Allied forces prevented Japanese soldiers capturing Port Moresby via the Kokoda track; a Japanese victory would have isolated Australia from the Allies.
War photographer Damien Parer shot iconic footage for the Department of Information that became the basis for the Cinesound Review newsreel Kokoda Front Line!. Directed by Ken G Hall, the film won Australia its first Academy Award in 1943. Sixty years later, the campaign was the subject of Kokoda (2006), a feature directed by Alister Grierson.
Explore the Department of Veterans' Affairs website The Kokoda Track
and learn more about the Anzac tradition at the Australian War Memorial website.
Australia will commemorate the Anzac Centenary between 2014 and 2018. Discover more details about the Anzac Centenary.
See all ASO titles tagged Australian soldiers.