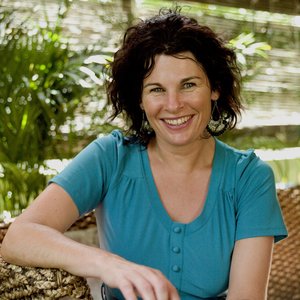 Beck Cole (left) has written and directed a number of short films – including Flat (2002) and Plains Empty (2005) – as well as episodes of the series First Australians (2008) and the making-of documentary Making Samson and Delilah (2009). With her husband, director-writer-cinematographer Warwick Thornton, and producer Kath Shelper, Cole has also created a creative partnership they unofficially call 'the Trinity'.
Here I Am is her directorial debut; it stars Shai Pittman as Karen, a young Indigenous woman trying to rebuild her life after being released from prison. Staying at a halfway house, Karen must learn how to deal with a world that judges her for her past, the mother she has disappointed, the daughter she barely knows and, most importantly, herself.
We spoke with Cole about the film, which premiered to a standing ovation at the 2011 Adelaide Film Festival.
What are the themes you wanted to explore in Here I Am?
I started writing the script soon after I had my first child, my daughter, so I was thinking about my role as a mother. Producer Kath Shelper and I had been working on the screenplay for about six years, but I guess the story didn't change a lot over that time; the film deals with universal themes like love, friendship and motherhood. It's about the relationship with your mother and the struggles that most of us go through in life, although this particular story is a woman's journey, from her release from prison and her stay at a women's shelter, through to a place of hope and happiness.
Karen's journey in the film is full of hardships. What kind of emotions do you think Here I Am will produce in the audience?
People will come away from this film feeling quite joyful and hopeful; like they've been to a place they've never been before. I know a lot of people say that about their films, but that's how I feel about mine.
Your husband Warwick Thornton is the film's cinematographer, and you've once again worked with editor Rolland Gallois. Why is it important, as filmmakers, to take this 'family' approach and have a strong core creative group?
We love them as human beings; it's not about their CV or their experience, although they're all fabulous in their own ways… We've got a really great group of friends who would bend over backwards to work with us on the film, so we were lucky like that. When you work with people and it gels, you want to stick to it and that's how we feel with the friends we work with in the various departments.
Does the success of Samson and Delilah (2009), made by the same creative team as Here I Am, generate higher expectations for your film?
We don't put that expectation on ourselves; we just make the best films that we can and we tell the stories that we want to tell. As long as that's our goal, we are protected by that.
Since the release of Samson and Delilah in 2009, Indigenous-themed films seem to have found a new level of popularity. How do you feel about Indigenous voices finally reaching mainstream audiences?
People enjoy our films because they're good films; well, at least we hope so. When you look at the success of Samson and Delilah (2009) and Bran Nue Dae (2009) you couldn't get two more different films, and yet audiences loved them and embraced them so strongly. It's been a really great two-year period, and there's a whole heap of Aboriginal filmmakers out there that are doing really fantastic work that is being recognised, and that's obviously a very positive thing.
Here I Am is released in Australia on June 2.