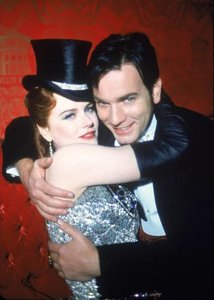 It's one of the most beloved musicals of all time… but it's also one of the most hated. When it comes to director-writer-producer Baz Luhrmann there's usually no middle ground, and Moulin Rouge! was the film that consolidated him as a visionary artist with a clear understanding of pop culture as material ripe for recycling and re-invention.
Funded by the US studio Twentieth Century Fox, there's no denying that Moulin Rouge! is an international production, but one driven by Australian creatives and made in Sydney with a largely local crew, so it is also Australian at heart.
Moulin Rouge! premiered as the opening film of the Cannes International Film Festival on 14 May 2001. It was then released in Australia on 24 May, and in the US and the rest of the world on 1 June.
These are a few of Moulin Rouge!'s achievements, and other trivia about the film:
• It was shot at Sydney's Fox Studios between 1999 and 2000, but some pick-up shots had to be filmed in Madrid because the studio had been taken over by Star Wars: Episode II – Attack of the Clones (2002).
• It won Academy Awards for Best Art Direction-Set Decoration (Catherine Martin and Brigitte Broch) and Costume Design (Catherine Martin and Angus Strathie). It was nominated for a further six: Actress (Nicole Kidman), Cinematography (Don McAlpine), Editing (Jill Bilcock), Make-up (Maurizio Silvi, Aldo Signoretti), Sound (Andy Nelson, Anna Behlmer, Roger Savage and Guntis Sics) and Picture (Fred Baron, Martin Brown and Baz Luhrmann).
• It also won the Golden Globe for Best Motion Picture – Musical or Comedy, as well as Best Actress (Nicole Kidman) and Best Score (Craig Armstrong).
• It re-ignited Hollywood's love for musicals and re-invented the genre for the 21st century. A musical, Chicago (2002), won the Best Picture Oscar the following year – the first since Oliver! in 1968.
• It re-positioned Nicole Kidman as a major Hollywood star and started the most critically-acclaimed period of her career – followed by her roles in The Others (2001) and The Hours (2002).
• It is currently the 5th highest grossing local film in Australia, with $27,734,406m at the box office – only surpassed by Happy Feet (2006), Babe (1995), Australia (2008) and Crocodile Dundee (1986).
• Worldwide, it earned U$179 million – a fact that is even more impressive considering the Australian dollar was worth only 51 US cents, so U$179m was the equivalent of A$351m.
• The soundtrack topped Australia's music charts for 11 weeks, becoming the highest selling album of 2001.
• It spawned the global #1 single 'Lady Marmalade' by Christina Aguilera, Pink, Lil' Kim and Mya, as well as 'Come What May', Nicole Kidman and Ewan McGregor's first music hit. Kidman followed it up with a duet with Robbie Williams, 'Somethin' Stupid' later that year.
• Actors who were considered for the leading roles include Catherine Zeta-Jones, Renee Zellweger, Courtney Love and Heath Ledger.
• Kidman fractured two ribs and injured her knee during a dance rehearsal. Some of her scenes were shot from the chest up, while she was in a wheelchair.
• The Paris landscape was one of the most complex visual effects projects Sydney's Animal Logic had undertaken. The company went on to create fully digital worlds in Happy Feet (2006) and Legend of the Guardians: The Owls of Ga'Hoole (2010).
• It was released as Amor en Rojo (Love in Red) in Spanish-speaking territories.
To celebrate this anniversary, ASO has published a brand new stills gallery for Moulin Rouge!.
Do you love Moulin Rouge!? What's your favourite moment?
Do you hate it? Why? Make sure to leave your comments!