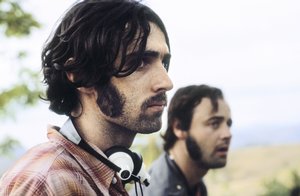 First the Adelaide Film Festival (AFF) did it, then Australia's oldest film festival, the Melbourne International Film Festival (MIFF), did it. Did what you ask? With the support of their respective state governments, they began to invest in Australian films. It is going to be very interesting to track the effect of this significant new trend on Australia's national film slate.
The first four feature films to benefit from MIFF's largesse were recently shown for the first time. MIFF's opening night film was political thriller Balibo, the latest from director Robert Connolly (see image on left); also screened were mothers-and-children drama Blessed, the latest from Ana Kokkinos, the long-awaited musical Bran Nue Dae, Rachel Perkins's second feature after Radiance (1998), and horror film The Loved Ones, a debut film from Sean Byrne which is reputedly a rollercoaster ride. There were documentaries included last year but no features. The feature-length documentary Indonesia Calling: Joris Ivens in Australia is also among this year's collection.
Adelaide boasted six local world premieres in February 2009 because of this new film investment trend: the features Last Ride, Lucky Country, My Tehran For Sale, My Year Without Sex, Samson and Delilah, and the documentary A Good Man. As part of the deal between the festival organisers and the producers, the films must premiere at the festivals and this attracts considerable kudos to the events.
There are only a handful of festivals in the world that invest in films but most of those, including Rotterdam and Berlin, only support debut feature filmmakers or the development of cinema in third world countries rather than their own. Investing across the homegrown cinema industry, as is happening in Australia, is not the norm and many are keen to track the results.
The festivals are micro investors and usually co-finance so it is arguable what impact they'll have on what gets made. The AFF fully financed the outstanding Boxing Day (2007), which otherwise may never have emerged. Also, any financier can serve as a trigger to others, especially if they have a reputation for being astute in their judgements about scripts. More than some other investors, festival organisers think very seriously about quality and audience needs and this can only have a good outcome.
And one more positive is that Australian films are getting more attention before they launch, via the festivals, which should help them find bigger audiences.
Time will tell on all this.