Robert Connolly
22 December 1967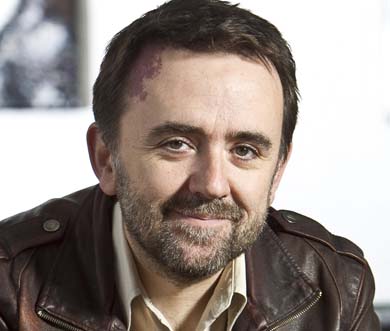 See also
Related people
Related events
Paul Byrnes speaks with Robert Connolly – producer, director, innovator.
Robert Connolly is one of a rare species in Australia: filmmakers who both direct and produce, although not generally at the same time. He has come from the outer, radical edges of the industry to become a player at the centre, working across a range of media. He has served on a number of film industry boards, including Screen Australia (2008–12), although it would be wrong to say he has joined 'the establishment'. He's too independent-minded for that. He retains the spirit of the maverick, in that he is prepared to attempt things that haven't been done here before, and there is a distinct well of zeal. He still wants to do films relevant to the country in which he lives, like Balibo (2009). He has refused so far to take jobs in Hollywood, preferring to work and raise a family in Melbourne.
In mid-2012, the time of this interview, he is busy. At an old warehouse conversion in Port Melbourne that he shares with the actor Eric Bana, he is about to shoot the television feature, Underground: The Julian Assange Story (2012), an unauthorised biography of Julian Assange as a teenage hacker. After that, he will move on to an adaptation of Tim Winton's bestselling book of short stories, The Turning, on which he has assembled 17 directors, each interpreting a story. The directors include actors Mia Wasikowska and David Wenham, the choreographer Stephen Page, the artist Shaun Gladwell and Justin Kurzel, who made Snowtown (2011).
Connolly has a TV series in development about Aboriginal footballers, to be made by Indigenous directors, and a children's feature film called Paper Planes, the story of a kid who goes to Japan to compete in the world paper plane championships.
The state of the industry
He's doing most of these with partners, but only a small office staff. His operation is lean, as befits the times. As a former member of the board of Screen Australia, he is acutely aware of the state of the industry. He thinks deeply about what the Australian film industry is now, was then and could be in the future. He has few illusions about the business:
'It is as hard as it ever was to make films in this country, but we have got more government subsidy than we have ever had with the new producer offset. I'm a bit sick of people crying poor to the government about subsidy. Anyone can just go and make a film and get 40% of the budget if they spend over $500,000. What other industry has that? If I say I'm going to manufacture cars I can't just automatically get a grant. On top of that you have state agencies and the federal agency (for funding), and you have the broadcasters. But even in that climate with that level of subsidy, financing films is almost an impossible ask, and the unspoken part about that is the strength of television and the fact that Australian audiences don't need to go to the cinema to get drama.'
That's an interesting observation: he believes the high quality of drama on television is taking audiences away from cinema. He had recently started to watch the hit Danish series, The Killing (2007–12). 'I can't wait to get home and watch the rest of that. I would say that on aesthetic levels, performance levels, narrative levels, it is like Shakespeare. I think television is now made at such an extraordinary level, and it is consumed on DVD in your own time, and increasingly on the web…'
Balibo on the record
He recently directed two episodes of the highly acclaimed series, The Slap (2011), based on the book by Christos Tsiolkas. Each episode was seen by one million people in Australia, and was extremely well received in Britain. Contrast that with Balibo (2009), which took years to develop and was one of the hardest projects he has ever made. It had major publicity, was an important film in terms of Australian history, but the box office was a disappointing AU$1.3 million. When the ABC screened it on Sunday night in prime-time, only 400,000 people chose to watch it. The experience left Connolly drained and confused for a while:
'People just didn't want to know that story, I think. That film should have made more money than it did.'
Did he regard it as a failure? 'Not really. Ultimately, I'm so proud of that film. It is on the record.'
Balibo (2009) is set during the Indonesian invasion of East Timor. It documents in precise detail the murder of five Australian journalists in October 1975, and the murder soon after of the Australian journalist Roger East (played by Anthony LaPaglia). A number of people had tried and failed to make a film about those events. Connolly got it done, basing the film's most harrowing scenes directly on the findings of the New South Wales assistant coroner, Dorelle Pinch, who determined in 2007 that the five were 'shot or stabbed deliberately' by Indonesian special forces, acting under orders.
The film was made for AU$4.7 million, and it sold in a number of overseas territories, but he had expected it to have a greater immediate social impact. 'I wondered what I had done wrong with it, or whether that was just the limit of the audience that wanted to see it? Fred Schepisi was fantastic. He talked to me about his experience when he made The Chant of Jimmie Blacksmith (1978) in the 1970s and the feeling that no one wanted to see it. That actually propelled him to America, I think. He said he felt so disgruntled, but (he said) in time, films enter the lexicon. I guess, in time, I hope that Balibo will do that. I think Balibo has told a part of our story. That film was an amazing thing for me.'
Balibo (2009) was Connolly's third feature as director, and he thinks it is probably his best work, but it may turn out to be a turning point. Most of his personal films have been highly political dramas that sought to connect directly to the Australian heartbeat. He was committed to the big screen and the desire to make significant films that had resonance for an Australian audience.
His first feature, The Bank (2001), was about why Australians hate banks. His second, Three Dollars (2005), asked whether we had become an economy, rather than a society. The experience with Balibo (2009) has made him question whether an audience still exists for serious-minded Australian drama on a big screen, or whether it has migrated to television. His projects are increasingly geared towards television, and going where the audience is. One million pairs of eyes for The Slap (2011) shows that drama still has power to engage us as a culture. He senses that we need some new ideas about the forms of drama we are prepared to make – hence an experiment like The Turning (2013), which is conceived as a modular kind of movie, able to be shown in parts, or in full, and in art galleries, cinemas or on TV:
'So if I am looking at the future my view is that you can retreat into genre fiction, and I don't denigrate that because I love genre, or you can go the other way and be bolder, which is what The Turning is. Tim Winton's collection of stories sold 250,000 copies. It is Australia's bestselling book of short stories ever. It is being made with a bunch of great creative minds as a cinema event… Will it work? I don't know but I am really excited to find out. I'm at my most optimistic when I am thinking more boldly, like that.'
Discovering drama
Like many in the Australian film industry, Connolly came to it indirectly. He was born in Sydney, eldest of three children. His father worked in international telecommunications. At Christmas in 1982, he brought home an Australian-made home computer, the 16 kb MicroBee. 'I was a 15-year-old kid and I had an incredible aptitude for it. I became obsessed with it and for about three years in high school I wrote computer programs. I wrote a game together with my brother called Atlantic Sea Battle, where you were the captain of the (German ship) Bismarck, in the Atlantic, sinking Allied ships. A company called Applied Technology released it.'
His family had been living in the Blue Mountains. When they moved back to Sydney, Robert went to a Catholic college in Randwick that he hated. He left after one year, drifted for a while, then enrolled at Randwick Boys' High, where a young English teacher inspired him. Kath Pearson's advanced course in drama introduced him to the work of Australian playwrights, such as Dorothy Hewett, Alex Buzo and Jack Hibberd, none of whom he had heard of. 'My wife thinks it's so funny that if I had stayed writing computer programs, I would probably be a millionaire now. Instead, I "discovered the theatre"…'.
He left school with a burning desire to be an actor. He auditioned for NIDA, the National Institute of Dramatic Art, but didn't get in, so he did theatre studies at the University of New South Wales. He graduated with Honours four years later, with no thoughts of a career in film.
He was an energetic filmgoer before he left high school. 'Every Friday in Metro in The Sydney Morning Herald there were these ticket giveaways. We used to duck out of the classrooms at Randwick Boys' High and go up to the public phone and call in to get free tickets, because we had no money. The Dendy at Martin Place was fascinating. I went religiously, to see whatever was on … That was about 1985. I remember art-house cinema then as being very sexy, it was where you went with your girlfriend, or your friends. It wasn't impenetrable as it is now, where it's $22 a ticket. I think the art-house circuit is boring now. I think it's highly conservative and playing to an older generation.'
He began to direct plays at university. 'I never thought I would make films and it was largely because I thought it was a rich kids' game. I couldn't afford to do it. You shot on film, I had no money and getting a camera and buying film stock and processing was very expensive. So I moved out of university and formed a theatre company called Missing Link Productions, with a guy called Robert Patterson, who is now the head of ABC Music. We put on a whole heap of plays. I did Joe Orton's early plays, I did Alex Buzo's Rooted (1973) at the Stables Theatre, and Louis Nowra's first play, which had never been performed, believe it or not.
'During this time, and living on the smell of an oily rag, I produced the stage play of The Boys, written by Gordon Graham. That was at the Griffin Theatre in 1991. That was where I met David Wenham. He was in the play, straight out of the theatre program at Nepean. He and I really got on, and the show was a huge success. Six months after that, David and I were having a beer at the Green Park Hotel and we agreed we should make it into a film. I hadn't made any films, but we felt we were on to something with it.'
Connolly approached the late Anthony Williams, Gordon Graham's agent, and negotiated the film rights. He agreed to pay $500 in the first year, $1000 in the second, and $1500 in the third. 'It almost killed me making those payments. I thought, I have to go and study film. But I had already done four years of study, so the thought of studying was terrifying.'
He applied to both the Victorian College of the Arts (VCA) and the Australian Film Television and Radio School (AFTRS) in Sydney for a one-year course in producing. 'Both applications were pretty hopeless, and VCA completely and utterly rejected my application, but there was a woman, Gilda Baracchi, who was the head of producing at AFTRS. She was quite an eccentric character and she was intrigued. My application was, basically, there is this play I've put on that I want to make into a film, and here are four issues of a magazine on film that I published at University when I was head of the Film Society. That was called Sequential.
'Somehow, Gilda saw some possibility in my application, and she rang me and said, "The one-year producing course is not right for you; you are a director already in theatre, so you should do the three-year course, the full course, at AFTRS". It was an amazing thing really, this was before HECS (Higher Education Contribution Scheme: student loans). This was free, a free degree. And they paid you a couple of hundred bucks a week to do it. Even so, I deliberated. It was one of the great decisions, and I kind of owe Gilda for encouraging me.'
He already knew he enjoyed directing more than acting. 'I wasn't a bad actor, just not amazing. I was conscious that as an actor, you are completely disempowered. You wait for somebody to employ you, and I just couldn't do that. I always had that more entrepreneurial interest in driving and creating my own work. It is kind of a double-edged thing, because when you produce and direct your own work, there is a sense that it feels a bit like self-publishing. There is a bit of a sense for some people that you are like a poacher turned gamekeeper.'
Finding a mentor
In the second year at film school, students were encouraged to find a mentor. 'At that point, I had seen Vigil (1984) and The Navigator: A Medieval Odyssey (1989) (both directed by Vincent Ward), and Sweetie (1989) and Angel At My Table (1990, directed by Jane Campion) and John Maynard's name was on all of them. I thought I should meet him, because I had a sense that he was like a producer as auteur. That was a huge turning point for me. I met him at the Rustic Cafe in Surry Hills in Sydney. I remember I was so nervous. I was 25 and he is 25 years older than me, but he was at a turning point in his career, struggling to work out what to do next.
'He had had another career, as director of an art gallery, and I think he was at a point where he might have gone and done something else. He said, "I'm working from home, you can come round one day a week", so I did that. For the first six months, he was just doing his garden and we would chat while I helped him pot his plants. It was actually quite inspiring, in that it was all about ideas. Not about financing. It was all about politics and films and the visual arts and literature. He introduced me to the idea of that kind of producer, the Renaissance man as producer.'
Maynard's career had been split between Australia and New Zealand. In 1995, he was about to produce All Men Are Liars, a comedy written by Gerard Lee, who wrote Sweetie. Lee was to make his debut as director. Maynard asked Connolly to be associate producer.
'So I went to the film school and said I need six months off, I've been offered a job on this film, and they said no, you have to finish the year, so I told them I was leaving the school. And Gilda, again, was able to see through the bureaucracy of it and say, we ought to build that into the course. So my third year at the school was making the feature with John, and one short film at the school.'
All Men Are Liars (1995) was shot in Far North Queensland on a low budget. 'We had to use radical ways of doing things. There was a level of managing chaos about it. We used locals to build the sets, and the art department was going, "No no, we need to use construction people", but John was saying, are you kidding? We are in a small country town, let's use the local construction guys. The art department was pulling its hair out, but he went round and met the local guys. They were all needing work and they did an amazing job. One of the things I did was take some of the local primary school around the sets we built, just to let them see a film being made, and one of these little kids, about this high, was looking up and said "My dad built that".
'So John entrenched that idea in me, that the film industry is kind of inappropriate in some situations.… Maynard does come out of a visual arts background, so he has this idea that filmmaking should be a bit like splashing paint on canvas, that the industrial model of it can kind of crush the creativity, and I think that is so true. You feel that as a director. Balibo is the closest I've come to creating that aesthetic, and The Boys (1998) was a bit like that. Some of my other films have fallen into a kind of more industrial methodology. I think that Maynard showed me that cinema is about ideas, and then you bolt on the financing bit. He's obviously very knowledgeable about that and I learned a lot about that too.
'Halfway through the shoot, John had to go to New Zealand, because the release of Once Were Warriors (1994) was going through the roof. He left me in charge, aged 25 and not really knowing what I was doing. It was wild and it was fun, and John was adventurous and fearless. It had a kind of spirit of adventure in the making of it, and you don't realise at the time, you think every film is going to be like that, but in a highly bureaucratised, risk-averse industry, there's not much place for it anymore.'
Making The Boys
Connolly returned to the film school to complete his third short film, Mr Ikegami's Flight (1995), which was very successful. He graduated unsure of what to do next, so he went to New Zealand to work on post-production for All Men Are Liars. 'Maynard took me to dinner. I was expecting him to say, I'll give you a job, but I can't pay much money. I would have just taken whatever. And he said, "I've been wondering what to do, thinking about the future, I was wondering if you and I could work together and I'll give you half my company, and you become a partner". I couldn't believe it. That was Footprint Films, his distribution company, and Arenafilm, the production company, and he literally gave me half. We signed no other legal document in 15 years of business together, except a thing he gave me which signed over 50% of the businesses to me. So that began a long phase of my life, where John and I shared everything together, success and failure.'
Connolly brought with him, as his first project, the long nurtured desire to make The Boys. It was four years since he and David Wenham had decided to film it, but there was still no director attached. Connolly did not feel ready to direct his first feature and never considered it. Wenham had appeared in a short film, Tran the Man (1994), directed by Rowan Woods, at film school. Connolly loved the look of that film, so he asked Woods to direct The Boys, with Maynard as co-producer. They brought in Stephen Sewell to adapt the play. 'Stephen wrote a draft that was 70% there in two weeks. The fundamental guts of that film he wrote in two weeks. The structure and the character landscape is very similar to Gordon's play, but not one line of dialogue. I became interested in Sewell when I was at university, studying theatre. His plays were like a punch in the face to me.'
The Boys faced many obstacles. A script assessment for the New South Wales Film and Television Office was overwhelmingly negative. 'I went in there for a meeting, and John McQuade said before the meeting, "You should read this assessment", and it began: "The filmmakers behind this are morally reprehensible for trying to put scum like this on the screen'. So Rowan just got up and left, he didn't even say goodbye. John was lovely, after the film came out he rang me up and said we got it wrong, the film is great. They were never going to invest, it was a moral objection. The interesting thing about The Boys is that it doesn't morally judge the characters, so it's not a moral tale. It's not trying to be, except in a philosophical way.'
The Australian Film Finance Corporation (FFC) refused to back the film, objecting to aspects of the financing. Maynard and Connolly were using a novel technique, seeking investment against insurance policies and sales assessments of the film's potential earnings. The FFC objected strenuously to the technique, although it was being used by many companies overseas. 'Philippa Bateman, who was working at the Australian Film Commission as a project officer, thought the project was amazing and she championed it within the AFC[Australian Film Commission]. Tim Read, who was the head of the AFC at the time, said to me that the board did not want to do it, they felt it was morally reprehensible.
'I have pondered this too, because now I'm on the board of Screen Australia (the successor to both the FFC and the AFC). I do believe that consensus breeds mediocrity. If you get eight people in a room, and you give them eight scripts, then the one they all agree on is probably not the one you should be making. What Tim Read was able to do, talking to the board, was to say we have somebody working for us, whom we employ to choose the things we should make, who is so passionate about this project … I think she might have even been at the point where she put her job on the line, and Tim was able to convince them, and they invested the rest of the money.'
The Boys (1998) was shot in western Sydney, largely in a house that was about to be demolished. 'We didn't know what we were making. We had a script and a structure and great characters but we had no sense of how people would respond to it. It had the potential to be an absolute catastrophe. It very much follows the idea that to have great success you have to walk on the precipice of complete and utter failure. And if you don't have the courage to walk there, you're never going to be truly successful. I think there is something to that. The Boys was a big risk.
'We sent it to Berlin as a double head print, film and sound not married together, and that is pretty interesting when you are unknown and you send something off to a major festival and you are just wondering what they think, it's not even finished, and they came back with an offer of competition. All of a sudden, you sense, oh shit, we've got something.'
In fact, the film was invited first to the prestigious Sundance Film Festival, but Berlin insisted on having the premiere, if it was to be in competition. Connolly and Maynard chose Berlin, which precipitated a major rift with Sundance, the kind of choice that can have repercussions on a career for a long time.
In Australia, the film was released with seven prints. It took about AU$700,000, which was a respectable figure for such a tough film. Connolly sees the legacy of The Boys as complicated. It came out the same year as Head On (1998), another extremely confronting film, directed by Ana Kokkinos. Soon after, Connolly began to notice opinions in the media that Australian films were too dark, and we needed to make more comedies. 'And then of course, we made a whole shitload of comedies that weren't funny.'
At the same time, he believes The Boys had a key influence on a number of films. It came out before Andrew Dominik's Chopper (2000), and led the way to films like Animal Kingdom (2010) and Snowtown (2011). The directors of those films, David Michôd and Justin Kurzel, have both acknowledged a major debt to The Boys. Connolly is proud of the film. 'I think in my career it was a great first film for me to be associated with. It passes as a bold, uncompromising piece of cinema that has a social context in Australia.'
Connolly's next film was a less happy event for him. When Maynard's partner Bridget Ikin took on the job of founding SBS Independent, he and Maynard took over the producing of Samantha Lang's second feature, after her well received debut, The Well (1997). The Monkey's Mask (2000) starred Susie Porter and American actress Kelly McGillis. 'I think I wasn't the right producer for it. There was a dysfunction in the methodology, which happens more often than not in filmmaking. The industry is littered with these stories. Sometimes it works well, like with Bob Ellis and the whole Newsfront (1978) debacle (see David Elfick portrait). You think, well they made a good film. I would have to take my share of the blame for some of the production issues on that film. But again I would say, walking on the precipice of failure, it was a narrative poem, a lesbian detective story based in verse. Let's put the degree of difficulty up there. There is something about failing with that ambition, rather than trying to make some more cynically contrived comedy that more people might go and see.'
An exercise in precision
On his next project, Connolly took the roles of writer and director for the first time, leaving the producing to John Maynard. The Bank (2001) came from an idea by Brian Price, a successful Sydney futures trader, and his friend Mike Betar. Price had invested in both the stage production of The Boys, and the feature film. The idea was that a man with the right skills could destroy a bank from the inside. Connolly discussed the concept with David Wenham, who loved it. Betar and Price advised Connolly on technical aspects of the work of financial traders, and he talked to mathematicians about the theory of computer programs that could predict market trends.
Connolly was also influenced by his love of early 1970s American thrillers with a political agenda. He had grown up watching the films made in the shadow of the Vietnam war: Three Days of the Condor (1975), The Parallax View (1974), The Conversation (1974) and All the President's Men (1976). He and Maynard had been reading books about globalisation by John Ralston Saul and Naomi Klein. He felt that the political thriller was a neglected genre in Australia. The Bank, which starred Wenham and Anthony LaPaglia, was partly an exercise in precision, both in the writing and directing.
'Paul Schrader (American scriptwriter and director) has this thing that you should never write the script until you can sit down with someone and tell them the story. I told John Maynard the story for The Bank and a week later Marion Pilowsky, who was running Showtime (a pay TV channel), was in and he asked me to tell her the story, so I did. The next day she invested $1 million in the film, and I thought holy shit, I have no script. I just literally told her the story.
'I was still developing my directorial style. If I look back on where I have got to now, The Bank is very formal. It has tracking shots and everything is beautifully composed. It is kind of very constructed in the writing and the visual aesthetic. Coming out of the computer programming thing, I have always felt I have this mathematical thing that I have had to fight against. When I made Balibo (2009), I was trying to shake it up, and not have notes or shooting lists, just trying to react.
'The achievement of The Bank for me was that I managed to execute that film in a complete way, in terms of the visual aesthetic. It is all very true to itself, but my interests have become much more about touching the heart. The Bank was a good film for me as a director, but it didn't make a mark in an auteur kind of way. It made a mark for me as a political filmmaker.'
The film was invited to screen at the Toronto and San Sebastian film festivals, and that led to offers from Hollywood to direct thrillers. He declined. Connolly was by then about to marry Jane Norris, a Melbourne-based casting director (daughter of the Australian actors Julia Blake and Terry Norris). He wanted to stay in Australia. The Bank was made for $5 million, took a healthy AU$2.6 million at the box office, and rated very well on pay-TV.
Fighting compromise
Connolly began to forge ahead with his next idea, an environmental thriller set in Antarctica that would forecast the effects of global warming. Unfortunately, that is also a description of the first part of a big-budget American film, The Day after Tomorrow, which came out in 2004, killing his project. He turned instead to the book by Elliot Perlman, Three Dollars (1998), a copy of which he was given for his 30th birthday, in 1997.
John Howard was then Prime Minister. 'For me I think Three Dollars was probably the most overtly political film. I thought that period in our history was really pretty shocking. We were in real strife as a nation, in terms of the values we were willing to compromise.'
Three Dollars (2005) had David Wenham, in his third film with Connolly, as an honest man with a wife and children and only $3 in his pocket. It was a film about what principles a man is prepared to compromise in his life. It came together quickly after the failure of the environmental project. Connolly sees it as a hybrid, somewhere between the formalism of The Bank and the freeform style he would employ on Balibo. The budget was again around AU$5 million, and the film took AU$1.6 million at the box office. It was critically well received, if less successful than The Bank.
He was now thinking of a new strategy, alternating between producing and directing. He would produce one film for someone else, then one for himself. Richard Roxburgh brought him a script for an adaptation of Raimond Gaita's memoir, Romulus, My Father (1998). 'I loved the book and was really intrigued by it, but not to direct. There are films you want to direct and others you want to produce.' Roxburgh wanted to direct the film, as his debut feature. Eric Bana and the German actress Franka Potente starred (Romulus, My Father, 2007).
Connolly then began work on Balibo. The idea started with David Williamson, but Connolly moved the script more towards the point of view of the East Timorese, wanting to avoid a story where a western character becomes the hero. Anthony LaPaglia plays Roger East, who still functions as that kind of character for the audience, but the film places his death and those of the five Australian journalists in the context of the suffering of the East Timorese. Connolly tried to shoot the film with much more freedom than he had ever attempted, using a small crew on the ground in East Timor and directing more instinctively, with a handheld camera.
The results were striking. Balibo (2009) is his most dramatic and gripping film, with a broad political canvas and a deep sense of tragedy. He was attacked for not hitting harder at the decisions taken in Canberra at the time by the Whitlam government, but he has no regrets. He wanted to keep the action concentrated on what happened on the ground in East Timor, to avoid losing the dramatic momentum.
' Balibo was really hard, the process of making that film, what it took to finance and in a practical sense. It was the most extraordinary 18 months of my life … In order to do it, John and I had to really bang together. People had tried to do that story for 30 years. I think we burned everything out to do it.'
Gun for hire
One result was that he and Maynard agreed to separate their activities, after 15 years. It was an amicable split and they still help each other, but Connolly now runs his own show in Melbourne, through Arenafilm. 'It was a great way to end a very successful business relationship of 15 years. I was interested in diversifying.'
Connolly's experience with two episodes of The Slap (2011) convinced him that there was good work to be done for television – and big audiences. 'I have become a gun for hire, employed on really interesting stuff for TV, which is a real shift, but I'm in good company. Jane Campion is making a TV series in New Zealand ( Top of the Lake, 2013) and Scorsese just did Boardwalk Empire (2010–current). I don't think the barrier between film and TV is as wide as it used to be.'
He believes his film on Julian Assange, shooting through the middle of 2012, would have been made as a feature five years ago. Now it is being made for television, with support from NBC Universal in the US. It's the story of a teenager obsessed with computers – something he knows a fair bit about.
Underground: The Julian Assange Story screened at the 2012 Toronto International Film Festival, was broadcast on Network Ten on 7 October 2012 and also had a series of national event screenings at Australian cinemas from 17 March 2013. It was nominated for Best Mini-series at the 2013 AACTA Awards and Most Popular Mini-series and Most Outstanding Mini-series at the 2013 Logie Awards.
Tim Winton's The Turning premiered at the 2013 Melbourne International Film Festival and commenced a limited season of event screenings in Australian cinemas from 26 September 2013. Watch a featurette about the making of The Turning on the Madman YouTube channel. Robert Connolly talks about The Turning's innovative distribution strategy with The Age. Learn more about each chapter of the film at The Turning website.