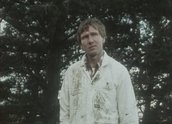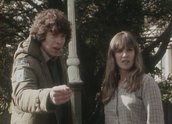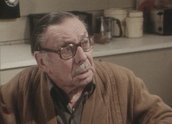 Young Ramsay – Natural Selection (1979)
Synopsis
Young Ramsay is about the adventures of veterinary surgeon Peter Ramsay (John Hargreaves). Disillusioned with the ways of the high-powered horseracing world in which he previously worked, Ramsay joins a country practice in the fictional town of Jindarra, somewhere on the coast between New South Wales and Victoria.
Natural Selection is from the second (and last) season of the show. Farmer Ernie Farrell (Edward Howell) refuses to admit that his bull, Rajah, may be past fulfilling his siring duties. To help the Farrells, Ramsay attempts to broker a deal between Ernie and his neighbour Russell Scott (Tim Robertson) of Tooraglen. The proposal is that Scott provide Ernie with the artificial insemination services of his own prize bull, Ottoman, in return for the loan of a couple of Ernie's milkers. Ernie is suspicious of the new-fangled science and reluctant to commit his animals to anything so 'unnatural'. Fortunately, an accident-prone relative of the Scott family, Maurice Morpeth (Lewis Fitz-Gerald), unwittingly provides Ernie with a perfect solution to his dilemma.
Curator's notes
The idea of a series about a country vet was not new even at the time, but what made this production different was its sophistication. Adult subjects like sexual stereotypes, old age, death and artificial versus natural insemination underpin this episode which asks what happens to man or beast once they've outlived their purpose. Both Ernie Farrell and his bull are facing a symbolic knacker's yard. It signals the inevitable disruption that modern ways and revolutionary techniques must bring to a hardworking yet tranquil world; 'Who darns socks anymore?', asks Ernie's wife Dolly (Queenie Ashton), in wonder rather than bitterness. It queries the wisdom of taking a person like Maurice Morpeth out of his natural environment and forcing him into an alien world. Maurice, graceful and talented at the piano, can only create havoc as he tries to assume the role of jackaroo.
It's all quite serious, but amusing and entertaining too – perfect family viewing at a time when there was usually still just one television set in the household and families sat down to watch it together. At the time, parents were finding themselves nervously navigating the waters between the last, desperately outrageous episodes of Number 96 (1972–77), The Box(1974–77) and a new and confronting series, Prisoner (1979–86), all of which were subjects of playground gossip despite their so-called adult 8.30 pm timeslots. Young Ramsay was well received by both the public and the critics, it won several awards and many prestigious names are to be found among the cast and crew. You'd have thought it would continue for more than 26 episodes. So why was it axed?
It was, of course, expensive to make, which could explain why there was a gap of two years between the making of the first series and the commissioning of a second series. And it struggled to gain a steady audience in the face of challenging programming decisions. The first series went to air in November 1977 and played through the summer non-ratings period. The second series was similarly challenged, put to air in February 1980 then dropped in March to accommodate the football telecasts and resumed in October when the football season was over.
To add to this, the show failed to gain a 'C' classification, an initiative introduced by the ABT in 1979. A 'C' classification opened the door to more funding and enabled a show to be broadcast in certain timeslots dedicated to children's viewing. The networks were required to fill these timeslots with first run 'C' classified content as part of their licensing agreement and Seven would have had high hopes for Young Ramsay. The ABT 'highly recommended' Young Ramsay but stopped short of awarding it a 'C' classification because its charter dictated that it could only do this for television produced specifically for children. So, ironically, the series was scuttled by its wide appeal.
Young Ramsay was unusual for its time in that it was a series shot entirely on location, using 16mm film stock. In the mid '70s Crawford Productions was still reeling from the successive cancellations of the police dramas that had been its bread and butter, and looking for a new direction. It is typical of the Crawford ethos that family viewing fare would top the list. Equally typical is that high-quality production values would be considered essential.
Natural Selection is a funny, well-told episode, directed by Pino Amenta in his usual clear and careful way that allows the narrative to shine; beautifully framed, but without any obvious and distracting display of technique (see clip one). All the actors, including four-legged ones like the wonderful kelpie (see clip two), are uniformly excellent and there is that strong sense of a real and pleasant rural community, which made the entire series so attractive. A lot of this was due to the rapport built between the central characters, played by actors John Hargreaves (Peter Ramsay), Serge Lazareff (Ray Turner) and Louise Howitt (Cassie McCallum).
The script by Roger Simpson is like an old bushman's yarn. It's the kind of fireside tale that bears telling again and is better with each repeat. Simpson won an Australian Writers' Guild AWGIE award for it in 1980. He is better known these days as a principal of Australia's largest independent television drama production company, Beyond Simpson Le Mesurier. Between them, the two Rogers (Simpson and Le Mesurier) have chalked up a whole slate of awards and been responsible for such high-profile television as Stingers (1998-2004) and Halifax fp (1994-2001).
Natural Selection first aired on Channel 7 in Melbourne in February 1980. It was originally shot as the eighth episode of the second series of Young Ramsay but broadcast as episode four. The self-contained nature of the stories made it possible to shuffle episodes.