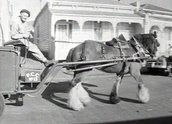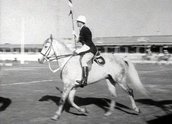 With Gentle Majesty (1962)
Synopsis
A black-and-white documentary about the workhorse, made at a moment in history when the horse is about to disappear from Australia's city streets forever. In 1962, the ice cart, horse-drawn tram, mounted postman and the old fire truck are still operating around Melbourne, though in ever dwindling numbers, often owned by local councils.
Curator's notes
The program uses wonderful stills and prints to remind us of the history of the working horse. The script by Peter Nicholls is a slow and thoughtful essay, like the workhorse it describes, but the visuals are really splendid, directed by the hugely talented Bill Fitzwater. He went on to work as a director for the BBC for many years, then returned to Australia in the late 1970s where he inspired many years of students at the Australian Film Television and Radio School, before retiring to study the classics.
This evocative and poetic documentary is set in urban Melbourne with its wide streets and postwar Holden cars. The program highlights some of the old stables recently converted into homes, warehouses, machine shops and garages. It's very much 1950s Australia, still lingering into the 60s, all about to be swept away in its turn by the ruthless developments of the 1970s.
The narration is literary and poetic, like its title borrowed from Shakespeare. Its strength is its visual form that captures the last days of the world of farriers and carriers who reminisce about their trade, only too aware that they're about to disappear from the landscape. There are no young people entering the trade, only a few old fellows about to retire, horses and men alike.
At the 1963 Australian Film Awards, the AFI awarded With Gentle Majesty a Silver Award in the TV Open category.