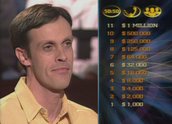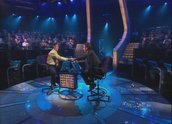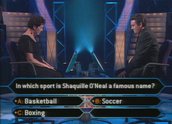 Who Wants to be a Millionaire? – Series 1 Episode 5 (1999)
Synopsis
Host Eddie McGuire recaps the previous evening's episode and introduces carry-over contestant Rick, who attempts to increase his $32,000 win. Ten potential contestants then compete in a game of 'fastest fingers first' to answer a multiple choice question and gain the opportunity to answer 11 questions of increasing difficulty to win the million dollar prize. Answering questions without hesitation, or having to take up the offer of any of three 'lifelines' (ask the audience, 50:50 and phone-a-friend), Kristin becomes the new carry-over contestant for tomorrow's show.
Curator's notes
Part of the international Who Wants to Be a Millionaire? franchise created in the UK by Celador Productions, Australia's version debuted in Australia on 18 April 1999 on the Nine Network and was hosted by Eddie McGuire.
The format combines the lure of huge prize money with trivia which, at least for the first part of the game, is accessible to home viewers. The presence of a relaxed and charismatic host in Eddie McGuire also contributes to the show's appeal. The host's introduction of contestants helps the players become real to the audience, who can rejoice and suffer along with them in their attempts to win.
Who Wants to be a Millionaire? revolutionised the way game shows look with dramatic lighting and music and sweeping camera moves. It continues to be one of the most successful game show formats of all time, having sold in over 120 territories, from El Salvador to Sri Lanka. The Oscar-winning film Slumdog Millionaire (2008) immortalised the Millionaire brand in the story of a Mumbai teen arrested for cheating in the Indian franchise of the show.
The show took a break on Australian television between 2006 and 2007 when host Eddie McGuire became CEO of the Nine Network. After 18 months, McGuire returned to his on-air role. He has also hosted Millionaire Hot Seat (2009–current), 1 vs. 100 (2007–08) and The Million Dollar Drop (2011).
Who Wants to be a Millionaire? was broadcast on the Nine Network from 18 April 1999 until 3 April 2006, and then from 2007 to 2010. This episode was recorded on 22 April 1999 and screened the following day. Between 1999 and 2010, the maximum prize was awarded twice – both times to contestants who appeared on the show in 2005.