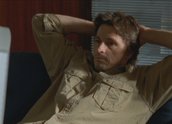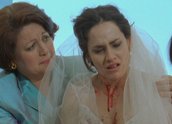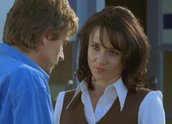 White Collar Blue – Series 1 Episode 21 (2002)
Synopsis
The Kingsway major crime squad arrive to investigate a shooting at a wedding. The groom is in a coma – but when interviewed, none of the guests seem to have seen anything. Is there an underworld connection? Meanwhile some money goes missing from the crime scene – and it looks like a member of the team has taken it. Detective Joe Hill (Peter O'Brien) is looking a little the worse for wear after nights on the bottle and days burying himself in work. One of Hill's exes has left town with his young daughter and no forwarding address. Meanwhile his work colleague and ex-girlfriend Nicole Brown (Jodie Dry) has announced her engagement to cop Shane Duggan (Rupert Reid). Joe and Shane do not get along. Now it looks like Shane Duggan might be the crime-scene thief – and Nicole wants Joe to clear his name.
Curator's notes
White Collar Blue's tough, streetwise detectives, whodunnit plotlines and moments of dry wit would be at home in many a hard-boiled, gritty crime drama. The show's twist on this genre is to replace some of the usual visual vocabulary – such as decaying urban environments – with a sparkling beachside suburban Sydney backdrop.
Detective Joe Hill is a particularly hard-boiled type, a working-class cop whose job is an all-consuming 'calling', to the detriment of his personal life. In this episode Hill is in the process of having a spectacular, boozy meltdown in true loner detective style. This is treated with low-key humour and, of course, Hill still manages to bag the case, with all the panache of the gifted TV detective.
While a shooting at a wedding with underworld links is the main whodunnit story for the episode, writer Tim Pye uses the 'B' story of money missing from the crime scene to generate dramatic tension within the team and move forward the ongoing storyline of Hill's relationship with Nicole. Part of the series's original premise but on the back burner for this episode is tension between Hill and detective partner Harriet Walker (Freya Stafford) – a middle-class, educated, ex-federal agent from the opposite side of the tracks to Hill.
Many of White Collar Blue's key creatives previously worked together on crime series Wildside (1997–99), including producers Steve Knapman and Kris Wyld and DOP Joe Pickering. Production company Knapman Wyld later produced crime series East West 101 (2007–11), again working with some of the same team. Actor Don Hany, who stars in East West 101, also has a role in White Collar Blue.
White Collar Blue went to air in 2002 when a crop of new Australian dramas were launched. The show faced competition from established hits like Blue Heelers (1994–2006) and Stingers (1998–2004) and a new wave of big-budget US imports, such as CSI: Miami (2002–current) and Without a Trace (2002–09). Although White Collar Blue struggled for ratings it was the only new Australian drama launched on commercial television in the second half of 2002 to be renewed for 2003. It wrapped after its second season. Episode 21 of series one aired on 21 April 2003.