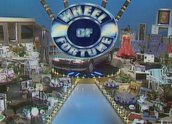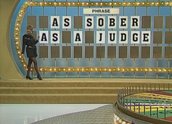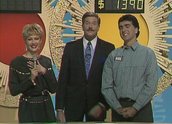 Wheel of Fortune – Series 3 Episode 1 (1990)
Synopsis
Wheel of Fortune is hosted by John Burgess and Adriana Xenides, with voice-over by John Deeks. In this edition of the long-running game show, three contestants compete for prizes including a Holden car. Over three rounds Kelly, Mark and carry-over champion Cheryl take turns to spin the wheel of fortune and pick missing vowels and consonants to complete word puzzles. Kelly and Cheryl solve the puzzles but Mark amasses the highest score and becomes the new carry-over champion.
Curator's notes
Between 1959 and 1995, Grundy Productions made more than 80 game and quiz shows, for every commercial network in Australia. While working in radio, Reg Grundy had developed a game show, Reg Grundy's Wheel of Fortune, which he adapted, produced and hosted for television in 1959. Soon after, with an eye on the US and realising the commercial potential for game shows, he began to adapt programs such as Concentration and Say When for Australian television.
By the late 1970s trade in program formats was becoming more formalised with the adoption of licensing arrangements. The Grundy Organisation began to purchase game show formats including Sale of the Century and, in 1981, Wheel of Fortune. Not to be confused with the program of the same name developed and produced by Reg Grundy from 1959–1962, this Wheel of Fortune was based on a format developed by American television personality and game show maestro Merv Griffin. The program aired on the Seven Network from 1981 to July 2006, the year in which the show celebrated its 5000th episode and 25 years on Australian television. One week later the program was axed.
As host, John Burgess displays an easy charm, a relaxed repartee with contestants and co-host as well as a relationship through the camera to the home viewer. Many successful hosts including Burgess have had early or parallel careers in radio which aids in the art of ad libbing around a format.
There was controversy in 1996 when Wheel of Fortune relocated from Adelaide to Sydney. Along with a revamp of theme music, set, game format and rules, popular host Burgess was replaced after 12 years by Tony Barber (from Sale of the Century). Viewers were not impressed by the treatment of Burgess or by the faster pace and format changes and ratings declined. In 1997 Barber was replaced by Rob Elliott (1997–2003), who was succeeded by Steve Oemcke (2004–05), and Larry Emdur (2006). Meanwhile Burgess moved to the Nine Network to host rival game show Catch Phrase (later Burgo's Catch Phrase).
At the same time ex- Perfect Match hostess Kerrie Friend replaced Xenides (due to ill health) for seven months. Xenides was recognised by Guinness World Records as the longest-serving game show hostess on Australian television. She joined Ernie Sigley as co-host in 1981 and remained on the show for 18 years. Famously for 16 of those years (from 1981 to 1996) she never missed an episode. Xenides formally left the show in 1999 and was admitted to hospital in the same year. She recovered to appear on Celebrity Big Brother and Beauty and the Beast and spent a short time partnering with John Burgess again on Burgo's Catch Phrase. Sadly Adriana Xenides passed away aged only 53 in 2010.
Many of the most successful game shows broadcast on Australian TV continue to be local versions of international franchises from the US, the UK, Holland and France. The relatively low production costs, simple sets, small casts, and highly formalised production techniques have – since the earliest days of television – made quiz and game shows extremely attractive genres. These shows are more profitable and faster to produce than virtually any other form of entertainment television. Apart from the enduring audience appeal as measured by ratings, sponsorship through the on-air advertising of consumer product continues to make this genre a popular choice for the commercial television broadcaster.
In the late 1950s a scandal involving sponsor influence and manipulation of outcomes in quiz shows supposedly based on factual knowledge contributed to a new division of genres. Shows that dealt with competitions based primarily on the display of factual knowledge were now considered to be 'quiz shows' while shows dealing with human knowledge or that were based primarily on gambling or on physical performances fell in the category of 'game shows'. This change coincided with a shift in content in the game show genre, away from high culture and factual knowledge towards games which involve chance and related to ideas of play and leisure rather than a display of intellect. There was also a move away from expert knowledge to contestants from the studio audience with everyday knowledge.
Versions of Wheel of Fortune were produced in 45 territories. Wheel of Fortune continues to be broadcast in the US, winning the Emmy Award for Outstanding Game/Audience Participation Show at the 38th Annual Daytime Emmy Awards in 2011. In 2008, the Nine Network revived the show as Million Dollar Wheel of Fortune, produced in Melbourne and hosted by Tim Campbell and co-host Kelly Landry. Going up against Deal or No Deal, the show failed to rate and was cancelled in May 2008 after only five weeks on air.
Wheel of Fortune premiered on the Seven Network on 21 July 1981. Twenty-five years later a total of 5118 episodes had been produced and broadcast.