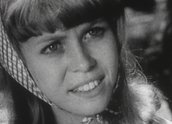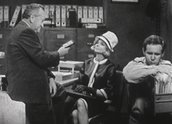 Wandjina! – Episode 5 (1966)
Synopsis
Two boys – Bruce (David Yorston) and Donald (Mark McManus) – are missing in the bush. Anne (Jacki Weaver) and Linda (Juliana Allan) take Anne's father (Brian James) and the local police sergeant, Tom Hicks (Bob Haddow), to where Bruce, Donald and the girls had established a camp near the hills. While Hicks, Dad and the girls look for the missing boys and find more than they expect, the government responds to Hicks's call for back-up.
Curator's notes
The ABC television series Wandjina! may be considered culturally offensive to the Worora, Wunambal and Ngarinyin peoples. It appropriates their creator being, the Wandjina, as the basis for a dramatised science-fiction series, thereby misinterpreting and misusing the Wandjina story, imagery and the creator being's name.
In the short film Deadly Yarns 3 – Who Paintin' Dis Wandjina? (2007), Janet Oobagooma from the Worora and Wunumbal tribes explains, 'the Wandjina is like a god.' Along with other traditional owners, she describes the cultural offence caused by the inappropriate use of sacred imagery.
Devoid of any relationship to the original Dreaming story, Wandjina! tells of strange robed figures walking around in the bush with mysterious weapons and of Aboriginal people recognising these figures as the Wandjina.
This episode shows the character Linda in blackface. Today, it would appear in poor taste for a non-Aboriginal person to don blackface to play an Aboriginal character, but prior to the 1970s this was not uncommon. This finally changed as Aboriginal people called for self-determination in the early 1970s including the right to self-representation.
That said, in the mid-1960s cultural equality remained an aspiration. Gaining the prior consent of Aboriginal peoples in the reproduction of their cultural imagery remains a work in progress.
The series was written by GK Saunders following his earlier science-fiction series The Stranger (see The Stranger – Series 1 Episode 1, 1964). It was produced and directed by Ken Hannam who later played a key role in the 1970s Australian film revival, when he directed Sunday Too Far Away (1975).
Wandjina! screened on the ABC in 1966. It was also broadcast on the BBC in the UK in 1967 as Wandjina Magic.