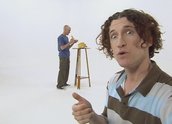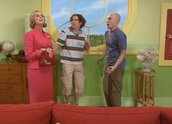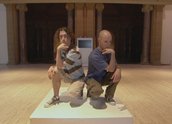 The Upside Down Show – Art Museum (2006)
Synopsis
Shane (Shane Dundas) and David (David Collins) introduce the viewers to an imaginary remote control to control the on-screen action. Shane creates an artistic 'masterpiece' by drawing his face on a perspex screen. Not being able to find a fridge to stick it on, Mrs Foil (Amanda Bishop) suggests an art museum as a suitable place to hang it. After a series of wrong turns that take them to the Sticky Room, Fog Room and Museum of Finger Painting, they finally make their way to the Art Museum (Art Gallery of New South Wales) and find a fridge on which to hang the picture.
Curator's notes
The Upside Down Show encourages interactivity and uses humour, slapstick and a well-honed sense of the ridiculous to entertain. At the same time it encourages creativity by modelling imaginative play and fostering a humorous approach to problem solving. The show was co-created by Shane Dundas and David Collins, better known as the Umbilical Brothers, and veteran Sesame Street (1969–current) writer Belinda Ward. It was developed by Sesame Workshop in the US and Blink Films in Sydney.
In each episode, eccentric and naïve brothers Shane and David encourage their pre-school audience to control the action via an imaginary remote control. Then, with the help of the audience at home, they set out to find a place they have never been to before, such as a barber's shop, airport or the moon. In this episode, it's the 'Art Museum'. Along the way, they make many strange and wonderful wrong turns, including a room where a child teaches the duo how to finger paint. At the end of the show, they hand over invisible paints to the audience so they can create art too.
The program also introduces new vocabulary and related concepts to its audience. In this episode, the concept of size is introduced through demonstration of large and small and the repetition of the words 'humungous' and 'minute'. Logical and abstract thinking, exploration of relational concepts and the encouragement of cooperation are also key learning concepts embedded in the program. Each episode has an overarching theme; here, art and the art museum are explored in various ways through the program's narrative.
Art Museum is episode three of The Upside Down Show. The series was broadcast on the ABC and Nick Jnr in Australia and Nick Jnr and Noggin in the USA. It won the Logie for Most Outstanding Children's Program (Australia) and the Parents' Choice Award (USA) in 2007. In the same year Nickelodeon USA announced the program would not be renewed for a second season.