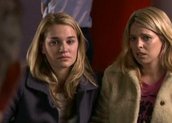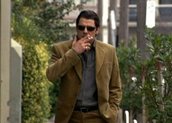 Underbelly – Series 1 (2008)
Synopsis
A 13-part drama series based on real events in Melbourne from 1994–2004.
In 1994, power and influence in Melbourne's underworld is held by the Moran family and old-school gangsters the Carlton Crew. Carl Williams (Gyton Grantley) is a little-known employee of the Morans, harbouring secret ambitions. Over the next decade a series of deadly rivalries and disputes see Williams move up in the world, while the Morans and the Carlton Crew are all but wiped out.
Police detectives Steve Owen (Rodger Corser) and Jacqui James (Caroline Craig), under the direction of Garry Butterworth (Frankie J Holden), try to piece together what's happening. They find securing criminal convictions to be an elusive business in a world where solid evidence is hard to come by and witnesses vanish as quickly as they appear.
Curator's notes
Underbelly takes a stylised approach to portraying real events. Flourishes include music-driven sequences, occasionally comic performances, rhythmic editing and techniques like jump cuts and animated text. The series sits at an interesting crossroads, drawing on both cinematic and television crime genres. Criminals are given cinematic treatment reminiscent of Francis Ford Coppola (The Godfather, 1972) and Quentin Tarantino (Pulp Fiction, 1994) and the poetically violent gang sequences in Baz Luhrmann's Romeo + Juliet (1996).
In contrast, the police characters belong to a different world, reminiscent of 'pro-social' cop shows like Blue Heelers (1994–2006) or Water Rats (1996–2001). This is all the more interesting considering that many of the real-life criminal subjects were self-confessed fans of crime-world cinema. Intriguingly, some of the complaints that surfaced about the show from surviving subjects were not about factual inaccuracies but the choice of actors and the way certain roles were played.
Before the series had even gone to air, media reports described attempted visits to the set by underworld figures including Roberta Williams. Michael Warner reported in the Herald Sun that criminal laywer George Defteros was unhappy about his potential portrayal by a 'comic actor'. Defteros, who threatened defamation action over other issues, was ultimately not named in the series.
The Williams's were also unhappy with their comic portrayal. Roberta's memorable first reaction to the finished series, as reported in the Daily Telegraph, was a desire to grab Kat Stewart 'by the throat and knock her out.' Roberta, who later toned down her comments about Stewart, also felt producers 'could have picked a nicer looking child' to play her young daughter.
Meanwhile, ninemsn's Gary Shand quoted Carl Williams objecting, through an intermediary, to his portrayal as a 'brain-dead goose'. Rather ominously, Williams's intermediary said it was 'wrong to assume he could do nothing from jail' but that he did not 'care enough about the show to worry about it'.
The gangsters of Underbelly inhabit a universe that normalises crime, where they go to 'work' and come home to relatively ordinary domestic suburban lives. This mixing of the macabre and the mundane is used as a source of comedy in a similar vein to Tarantino's films as well as Gregor Jordan's Two Hands (1999, see clip three), and David Caesar's Dirty Deeds (2002). In Underbelly, the Moran brothers calmly discuss the benefits of killing Carl Williams as though they were talking about selling a car. At other moments, hard-boiled glamour gives way to unglamorous violence.
The police characters bring a contrasting perspective. Ultimately, Underbelly's point of view is theirs. Detective Jacqui James narrates the story retrospectively. From this position she, and therefore we, know more than the police as we see them investigate. In contrast to most of the gangsters, the central police characters are fictional. In reality, the number of police investigating these crimes was much larger than the handful focused on here.
Compressing them into three central characters is a dramatic device that allows screenwriters to create police character arcs that unfold parallel with the crime story, rather than focusing on complex police force structures and processes. Where many of the gangsters come and go, the police characters remain consistent, giving an additional through-line to the story. The progress of their story arcs, for instance, from uniform to plain-clothed policing, also tells us something about the passage of time.
Underbelly netted a grand total of seven AFI Awards in 2008, including Best Television Drama and awards for directing (Peter Andrikidis), acting (Gyton Grantley, Kat Stewart, Damien Walsh-Howling, Madeleine West) and editing (Steve Evans). At the AWGie Awards, Underbelly's writers were recognised for adapting the book Leadbelly (2004) by journalists John Silvester and Andrew Rule.
Off the back of this success Underbelly returned for a second series in 2009, Underbelly: A Tale of Two Cities, based on a different phase in Australia's criminal history – the drug trade in Griffith, New South Wales, from 1976–87. A third series is airing in 2010, Underbelly: The Golden Mile, which focuses on police corruption in King Cross, Sydney, from the late '80s to the mid-1990s.
Underbelly was controversial even before it was completed. In Victoria, where it is set, the series was banned the day before its scheduled broadcast, due to its potential to influence jurors in the legal trials of figures it portrayed. This series of events was reminiscent of the broadcast ban of Blue Murder, also based on real events, in New South Wales and the Australian Capital Territory in 1995. Broadcaster Channel Nine tried unsuccessfully to challenge the Victorian ban but the rest of Australia still provided a ratings windfall. Meanwhile, the media reported a frenzy of illegal copying and downloading. Eventually, after one of the trials was resolved, an edited five-episode version of Underbelly screened in Victoria.