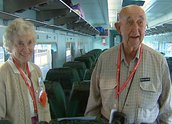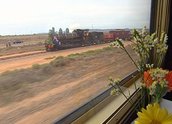 Stateline – The Transcontinental Dream (2004)
Synopsis
Reporter Mark Bowling travels with the Ghan on its inaugural train journey from Adelaide to Darwin, arriving in its new destination at the Northern Territory on 3 February 2004.
Curator's notes
The inauguration of the Ghan – that now connects Australia south to north – is the inspiration for this half-hour special from the Northern Territory edition of Stateline, which was broadcast nationally to commemorate this extraordinary moment in Australia's history.
The spine of the story is Mark Bowling's journey from Adelaide to Darwin, but what makes the story special are the archival moments from the history of the region. There are also some interesting digressions into towns and stations along the way, to find out from the local people what changes they hope to see as a result of this newest communication link.
When The 7.30 Report (2008) was made into a national current affairs program, the states were concerned that their issues would be forgotten with the flagship program's emphasis on national events. Stateline was the solution, a magazine program initially broadcast at 6 pm on Friday evenings with a minute budget that restricted the program to studio interviews. It soon became evident that the show was attracting a reasonable audience, so Stateline was moved to its present timeslot of 7.30 pm on Fridays, and has consistently rated well ever since.
The state programs are autonomous, with the larger states having an executive producer and, in each of the smaller states, the news department's editor performing that role. There's a state-based presenter and a small team of reporters on each Stateline. The standard magazine format of the program now offers filmed stories as well as studio interviews.