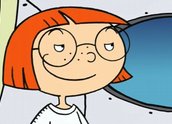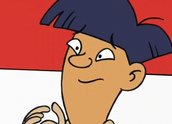 Tracey McBean - Episode 6, Series One, Multiplication (2001)
Synopsis
Child inventor Tracey McBean (voiced by Roslyn Oades) loves a challenge, and when her friend Shamus (voiced by Anthony Hayes) needs to be in two different places at the same time, this isn't a problem for an intrepid genius. Tracey decides to make a copy of Shamus to go to the family reunion, while the real Shamus goes to see his favourite band. But when the experiment goes a bit wrong, what do they do with lots of little Shamuses?
Curator's notes
A strong episode in the first series. In this story, Tracey McBean is at her creative best, building a people-multiplying machine in her backyard caravan. Of course it doesn't go to plan and the resulting miniature Shamuses give rise to many comic moments before Tracey uses a vacuum cleaner to catch them all. Shamus is the comic foil, the serious sidekick who, as seen in this story, inevitably bears the brunt of Tracey's crazy ideas.
The series is based on the children's book Tracey McBean's Stretching Machine. Written by Margaret Small (author of over 40 books), and illustrated by Arthur Filloy, this book was first published by HarperCollins in 1989 and reprinted by ABC Books in 2001 as a tie-in to this TV series.