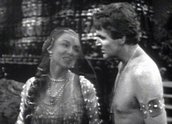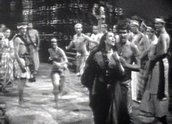 The Pearl Fishers (1963)
Synopsis
A televised performance of The Pearl Fishers, an opera by Bizet with an improbable storyline but incomparable music.
Zurga, chief of the pearl fishermen, and his great friend Nadir once vied for the hand of the beautiful priestess Leila. They had sworn never to see her again but Nadir recognises her as the veiled priestess who comes annually to pray for the pearl fishers. Nadir's love for her is rekindled and he discovers that she too loves him.
Their love is betrayed by the high priest Nourabad. Zurga the chief wants to be compassionate for the sake of his old friend but he discovers that the veiled priestess is Leila. He's consumed with jealousy and sentences the lovers to be burned. Leila comes to him to plead for her lover. She's prepared to die in his place. Zurga discovers she's wearing the necklace he gave to an unknown young woman many years before who saved his life by refusing to betray his whereabouts to his would-be killers. Zurga now engineers to set the lovers free and when his action is denounced by the high priest, Zurga himself is made to mount the pyre that was prepared for the lovers.
Curator's notes
The music for this opera in 3 acts was written by Georges Bizet (1838-1875) with words by Michel Carré and Eugène Cormon. It was first performed at the Theatre Lyrique in Paris on September 29th 1863. In the tradition of so many grand operas, the libretto is rather weak but the music is terrific. Its best-known song, 'In the Depths of the Temple', was voted number one in the ABC's Classic Opera Tunes competition of 1996. Bizet's best-known opera and the one that is still widely performed is Carmen (1875).
This television production, filmed in black-and-white, was one of the earliest performances ever broadcast on the ABC and one of the most elaborate. It was transmitted from the Gore Hill studios in Sydney. The settings are sumptuous. In one scene, a thirty foot square portable swimming pool, four feet deep, was set in the studio and filled with water from a fire hydrant.
The singing is sublime, with a great cast including Rosalind Keene (soprano), Ronal Jackson (baritone), Frank Lisle (baritone) and Edward Brayshaw (bass). The amazing thing about the casting is that the singers are so good looking. They actually look like the beautiful characters they are portraying. The costumes are sumptuous and the dance sequences terrifically choreographed. A magnificent television production.