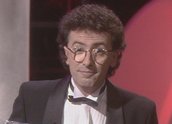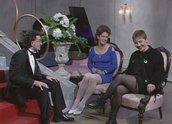 The Money or the Gun – Heroin (1989)
Synopsis
In this episode of his variety-chat show, host Andrew Denton explores the subject of heroin and heroin addiction.
Curator's notes
The Money or the Gun was veteran TV comedy producer and personality Andrew Denton's second major screen production, after comedy-variety show Blah Blah Blah (1988).
Each episode is about a serious social issue or subject, such as guns, disabilities or the police. Typically, Denton delivers a mixture of comic monologues, interviews, sketches and vox pops with the public, usually unearthing a range of different perspectives on the topic. His interviewees tend not to be media personalities but instead 'ordinary' people connected to the issue.
This early in his television career, Denton is already developing the persona he continues to be known for – the intellectual comedian and cheeky-yet-serious interviewer. Part of Denton's shtick is to combine traits that might commonly be perceived as opposites. His approach to each topic is both irreverent and sincere. As he chats with his interviewees, he manages to be bold and self-effacing at the same time, playing a tactless innocent who asks questions and makes jokes that others might be reluctant to.
Denton's irreverent take on real issues is followed through by Paul Hinderer's design. Eschewing the authoritative visual style of a newsroom or 'serious' chat show, the team instead go for Vegas-style cabaret glamour, with Denton sporting tuxes and sequins as he meets his guests in sets suggestive of discos and mansions. At the heart of it all is the idea that comedy can be a powerful means of looking at serious matters – in particular a way to cut through the hyperbole and hysteria often surrounding controversial issues in the media and look at them with fresh eyes. At the same time, the sparkle and smoke machines seem to say: this is showbiz – we can be entertained.
The episode 'Heroin' is particularly interesting because, as well as looking at the issues, it dissects Denton's approach. In this episode, Denton has a co-host, 'Gwen from ABC Documentaries' (Genevieve Lemon), brought in by the broadcaster because they were concerned Denton 'wouldn't be earnest enough' in approaching this serious topic (clip one). Gwen attempts to rein Denton in as he throws in creative devices like a sitcom called 'Junkies' and an InnerSpace (1987) style visit inside the body of a heroin addict. Along the way, Denton defends comedy as a means of being serious.
A legendary segment of The Money or the Gun is its 'Stairway to Heaven' (1971) cover performance. In each episode a different guest performer stages a version of the Led Zeppelin hit. The different versions were eventually released as an album.
Denton's other projects as co-producer and host include the late-night live chat show Denton (1994-95) for the Seven Network and his popular ABC talk show Enough Rope (2003-08), in which he further cemented his reputation as an interviewer. With his production company, Zapruder's Other Films, he has also been involved in a range of comedy and documentary projects in production roles. These include the first two series from satirical comedy team the Chaser, The Election Chaser (2001) and CNNNN (2002, see CNNNN: Chaser Non-stop News Network – Lunchgate), which Denton executive produced and script edited.
Another notable Australian example of the 'comic interviewer' is Garry McDonald's Norman Gunston of The Norman Gunston Show (1973-76) and The Gunston Tapes (1975).
The Money or the Gun premiered on ABC television in August 1989, in a 9.30 pm Saturday timeslot. It screened regularly in 1989 and 1990 and continued to screen intermittent TV specials.