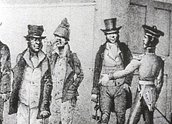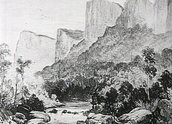 The Land That Waited (1963)
Synopsis
This remarkable documentary tells the early history of colonial Australia through etchings, paintings and drawings produced by the first colonists. It features voice-over narration written by Max Harris and original and evocative music composed by John Antill.
Curator's notes
Max Harris (1921-1995) was a well-known South Australian poet, critic, columnist, commentator, publisher and bookseller. His script for this program is rather dated by contemporary standards but the drawings and works of art used to tell this history of Australia are very effectively filmed with the rostrum camera under the direction of Gil Brealey, the ABC's very first film director. The haunting music is by the renowned Australian composer John Antill.
The newness and strangeness of this land to European eyes is evident in the early drawings and paintings. The Europeans were trying to make sense of what they were seeing, including the Aboriginal people they come across around the first settlement, as well as trying to capture the unique flora and fauna of this new land for those 'back home'.
The program well illustrates how using the rostrum camera for drawings and paintings helps make us feel part of the early settlement. Gil Brealey's direction is a fine example of how a powerful story can be told through stills and drawings, if appropriately selected and well shot.