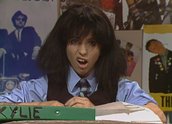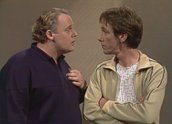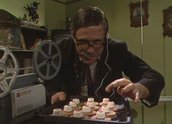 The Comedy Company – Series 1 Episode 11 (1988)
Synopsis
A sketch comedy series set in suburban Australia, featuring one-off sketches and regular appearances by characters including schoolgirl Kylie Mole (Mary-Anne Fahey), greengrocer Con the Fruiterer (Mark Mitchell), bickering couple Maryanne and Ian (Mary-Anne Fahey and Ian McFadyen), terminally unemployed Col'n Carpenter (Kym Gyngell), Russell the postman (Russell Gilbert) and pensioner Uncle Arthur (Glenn Robbins).
Curator's notes
The Comedy Company and its array of familiar, daggy suburban characters were a popular sensation. When it appeared in the late 1980s, sketch comedy was on the rise on Australian TV, much of it linked to a thriving live comedy scene in Melbourne. After the cult success of shows like the ABC's D-Generation (see D-Generation – Series 1 Episode 1, 1985),The Comedy Company marked the beginning of a boom period for the sketch format in the commercial TV mainstream.
Early episodes of The Comedy Company experimented with some slightly adult-oriented humour and topical, news-based comedy that echoes the format of The Mavis Bramston Show (1964–68). However the series quickly shifted its emphasis, finding its niche with light suburban parody aimed at a family audience and honing in on characters who struck a chord with viewers.
Such was the show's popularity that a number of these characters gained celebrity status. Mary-Anne Fahey's obnoxious schoolgirl Kylie Mole and Mark Mitchell's greengrocer Con the Fruiterer released successful pop singles. Catchphrases like Kylie's 'I go, I go… I just go' entered the popular lexicon. The series generated headlines by out-rating Channel Nine's previously unassailable current affairs show 60 Minutes (1979–current) after six weeks on air and maintaining record ratings for a TV comedy throughout its run.
A striking aspect of The Comedy Company's meteoric rise is the impact of its successive timeslots. Kylie Mole and several of the series characters had in fact first appeared in The Eleventh Hour (1987) at 11 pm on Friday nights on the Seven Network. After Seven decided not to buy more episodes, the group were picked up by Network Ten. The Comedy Company started out on Ten in a Tuesday night timeslot, where the response was lukewarm. Only when it was moved to the prime family viewing slot of 7.30 pm on Sunday, did Kylie and friends become surprise superstars.
The end of the 1980s saw turmoil at the commercial networks. Both Ten and Seven went into receivership. It was against this backdrop, which McFadyen describes in an interview with Jim Schembri for The Age newspaper as like 'witnessing the French Revolution', that The Comedy Company ended its run, with Ten unable to afford further episodes and the team ready for a break.
Audience interest in local sketch comedy was still high and The Comedy Company had a knock-on effect. Its head writer and a number of its writer-performers moved on to shows like Fast Forward (see Fast Forward – Series 4 Episode 3, 1992), Full Frontal (see Full Frontal – Series 3 Episode 4, 1995), spin-off series Col'n Carpenter (1990–91) and Big Girl's Blouse (1994–95). McFadyen also produced Let the Blood Run Free (see Let the Blood Run Free – Episode 2, 1990) and, more recently, suburban sketch comedy series The Wedge (2006).
The Comedy Company aired on Network Ten from 16 February 1988 until 11 November 1990.