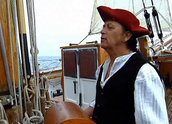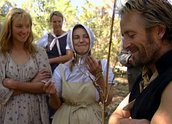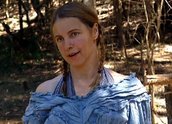 The Colony (2005)
Synopsis
A six part 'living history' series, in which four families and several single people – chosen to match the social fabric of the 1800s as convicts, political exiles, free settlers and Aborigines – all travel back in time to relive the birth of the Australian colony. For four months they attempt to survive in a remote valley on the Hawkesbury River north of Sydney, with only the resources that would have been available in the world of the early 19th century.
Narrator Jack Thompson eases us into the unforgiving environment and the tough life of the colony of New South Wales as it was over 200 years ago. External elements are periodically injected into the story, such as the arrival of a Catholic priest or of the 'red coats', to remind us of the wider political world of the colony.
Curator's notes
The series was conceived as 'a blend of historical discovery, social jeopardy, adventure, challenge and experimental learning', to quote the production notes. The series producer, Chris Hilton, has always been at pains to distance the series from the 'reality TV' label, saying there are no group votes, prizes or desperate stunts. He prefers to call it 'living history', the success of the series depending very much on each family lasting all of the four months of the experiment.
The families are well chosen and articulate about their hopes and fears as they replicate the early days of European settlement in its struggle for survival in a strange new world. Their struggle to match their aspirations with the reality provides the drama of this thought provoking and well-made series.
The producers advertised for participants in newspapers and on radio. One of the producers, Deborah Szapiro, said most of the participants wanted to know more about their history and to make a connection with their ancestors, whether Indigenous or white. All participants were put through a barrage of psychological assessments. These tests were used to pick up people's strengths and weaknesses and the sorts of things that would make or break them under pressure.