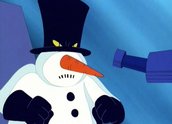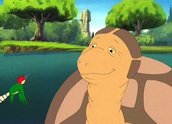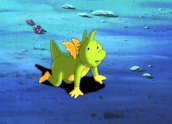 Tabaluga – The Last One of His Kind (1997)
Synopsis
Born at a time when he is needed most, the tiny, naïve but brave Tabaluga is the last dragon on earth. A delightful hero, Tabaluga uses courage and kindness, combined with his growing prowess at fire-breathing and flying, to outsmart his foe – the evil Arktos, who dreams of covering the world with ice and snow, beginning with Greenland's beautiful meadows.
Curator's notes
Tabaluga is another popular 2D animation series from animator Yoram Gross and his well-honed production team. Made for younger children, this is the first episode in the series. Tabaluga is based on a popular German character with its own stage show, originally developed by German rock musician, Peter Maffay. Licensed for the animation series by Gross, the Tabaluga story, like all Yoram Gross children's productions, is a simple one of friendship, and good versus evil. Tabaluga is a wise and gentle hero who uses nonviolent solutions for his problems and there are lots of comic comeuppances for the hapless villain, the snowman Arktos, whose evil plans never succeed.
With an eclectic mix of animals and accents from around the world, Tabaluga is a very international looking and sounding series. This diversity of the accents is particularly interesting as all voices are provided by the remarkable talents of just three voice actors, Keith Scott, Robyn Moore and Jamie Oxenbould – all Yoram Gross production stalwarts. In a nice Australian touch though, Tabaluga the dragon has a very convenient kangaroo pouch to carry his friends.