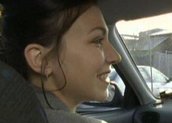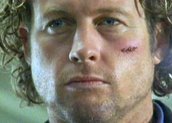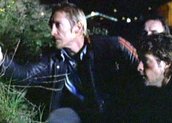 Stingers – Ratcatcher (1998)
Synopsis
When a country schoolgirl goes missing after babysitting for a family called the Gallaghers, police suspect Ronnie Gallagher (John Brumpton) of foul play. Unable to find evidence, they turn to the undercover unit for help. Peter Church (Peter Phelps) and Angie Piper (Kate Kendall) go undercover to get close to the Gallaghers and see what they can find out.
Curator's notes
'Ratcatcher' is the first episode of Stingers. Opting for a standard length rather than the telemovie pilot some series go for, it wastes no time setting up its premise. Instead of establishing backstory it dives straight into the action, allowing us to get to know the characters as the crime story unfolds.
Indeed, not knowing much about the characters is part of the premise. Our first look at the world of undercover policing comes through Peter Church (Peter Phelps). He's set up as a bit of a maverick – but it's interesting that as we get to know this character for the first time we are also seeing him take on a role as he goes undercover.
This blurring of personas – what is real, what is an act and how the team themselves can tell the differences – is a recurring theme in Stingers. Other themes include the moral grey areas agents traverse when gaining their targets' trust and putting informants' lives at risk, and their difficulties in maintaining external relationships when the job requires so much secrecy.
Phelps was a mainstay of Stingers for its full eight-season run. Kate Kendall was also with the series all the way through, with other long-serving cast members including Anita Hegh and Ian Stenlake. Gary Sweet was a notable addition to the cast in its later seasons.
Stingers was set in motion when former undercover policeman Guy Wilding approached Beyond, who in turn approached their fiction partners Simpson LeMesurier with the basic idea. According to Le Mesurier, this was an unusual sequence of events for Simpson LeMesurier: their typical process was to generate ideas themselves, which Simpson, as the 'writing' half of the production team, would develop into full concepts and pilot scripts. Also out of the ordinary was the development time frame: with Channel Nine keen to have it on air quickly, Stingers was developed and in production in the space of a few months. This first episode was scripted by Simpson, in consultation with Wilding.
'Ratcatcher' puts in place the series's premise and hallmark style. In the words of producer Roger Le Mesurier, this means it's 'not chocolate-boxy' and aims for a gritty feel and brisk pace. The undercover operations are a source of action and suspense, particularly at moments when it looks like an agent's cover might be blown. The main crime story is self-contained but is used to generate ongoing tensions between the characters and reveal their personalities.
'Ratcatcher' is the first episode of series one of Stingers. It was first broadcast on the Nine Network on 29 September 1998.