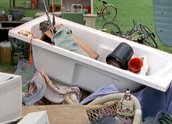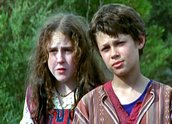 Snobs – Episode 8 (2003)
Synopsis
When snobbish Rachael Oakley (Nathy Gaffney) reports the travellers to the council for having 'rubbish' everywhere, their recycling business is placed in jeopardy. Marian (Ross Pirrelli) has plans for an old bathtub and makes a bet with Abby (Indiana Evans) that he can recycle it into a speedboat. Snobs takes his job of guarding the bathtub to heart and when it is thrown into a garbage truck, he goes with it, putting himself in terrible danger. Marian and Abby are themselves almost killed trying to rescue him.
Curator's notes
Snobs is a delightful series for children produced by Southern Star Entertainment Production for Channel Five (UK), and the Nine Network Australia. This is a typical example of a Snobs self-contained episode as Abby and Marian and the oh-so-clever dog, Snobs, get mixed up in yet another escapade. As usual, this situation has occurred as a direct consequence of the antagonism towards the alternative 'travellers' by a group of intolerant members of the local community.
Both young actors in these lead roles, Indiana Evans and Ross Pirrelli, do a remarkable job for their age. The role of Marian, the 'feral' boy, is an interesting one and Pirrelli brings a sense of understanding and maturity to the role to create a very likeable and believable character. Following her success playing the lead role of Abby in Snobs at the age of twelve, young actor Indiana Evans went on to appear in Home and Away (2008) and was nominated for the 2005 Logie Award for Most Popular New Talent – Female.
Snobs has sold internationally to United Kingdom (Five), Australia (Nine Network), Germany (Telepool), France (Teletoon – Canal Plus), Canada (TFO and TVO) Spain (Antena 3), Poland (Telewizja Polska), Portugal (SIC), Romania (TVR), Latin America (Cartoon Network), Estonia (Eesti Televisioon), Latvia (Latvijas TV), Kazakhstan (Khabar Television Channel), Bulgaria (TV Sedem) and Kenya (VGI).