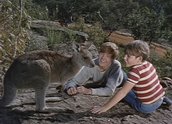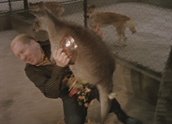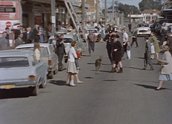 Skippy – Long Way Home (1968)
Synopsis
When head ranger Matt Hammond (Ed Devereaux) refuses to make a deal with Dr Alexander Stark (Frank Thring) – who is determined to have Skippy caged in his private zoo far away from the freedom of Waratah National Park – Skippy is kidnapped. Sonny (Garry Pankhurst) pines while Skippy manages to escape captivity, overcoming many dangerous obstacles on the way as she tries valiantly to find her way home.
Curator's notes
A classic episode of Skippy, often broadcast as the premiere of the series. It features Sonny (Garry Pankhurst) and an anthropomorphised Skippy at the centre of a story which presents Australia to the world as a place where kangaroos run through the town centre and are capable of almost anything. This episode also introduces archenemy Dr Alexander Stark (played with relish by Frank Thring) and his ongoing quest to make Skippy part of his private zoo. Dr Stark believes that money can buy anything and if it doesn't, there are always other ways to get what you want.
Skippy – Long Way Home is episode four of series one. It was broadcast around Australia during February 1968 in a 7 pm timeslot on the Nine Network. See also the Skippy series page.