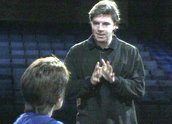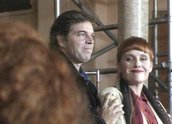 Seven Deadly Sins - Pride (1992)
Synopsis
Roger and Jill Pascoe are a glittering couple. Both are brilliant performers and he is also a great theatre director. Their next production will be Strindberg's The Stronger, first produced in 1889. We discover via a series of role-plays that the couple enact for a class of drama students that all is not what it seems with their marriage. The charismatic Roger has affairs with other women while Jill fights to keep up the facade that they are the perfect couple.
Curator's notes
This one-off television play is really terrific. The script is taut with great dialogue and the performances from Colin Friels and Elizabeth Alexander as the golden couple, are stunning. The writer keeps us guessing about what is improvised and what is real. Are we watching a game or are we watching a marriage disintegrating? In the end, the show must go on and these two consummate professionals will cleave together because in the end they are mutually dependent. The program ends with the first night performance of the Strindberg play and the director and his actor wife are, of course, brilliant.
This was the first time that theatre director Gale Edwards directed for television. An excellent choice for this debut because so much of what we're seeing happens 'on stage' as it were. It is also the first television script from writer Glenda Adams. Glenda Adams had spent years out of Australia, mainly in New York where she lived from 1964. She returned to Australia in 1990. Her novel Dancing on Coral won the 1987 Miles Franklin award and Longleg was short listed for the same award in 1991.