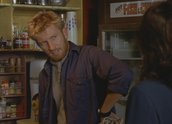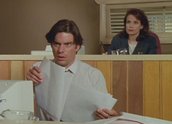 SeaChange – One of the Gang (1998)
Synopsis
High-powered city lawyer Laura Gibson (Sigrid Thornton) is almost too busy to notice her life falling apart. Then her husband's shock arrest for white-collar crimes, the revelation he is having an affair with her sister and the realisation that she hardly sees her own children force her to stop and take stock. On impulse, Laura throws in her job, packs up her life, and moves to the sleepy beachside town of Pearl Bay, taking son Rupert (Kane McNay) and daughter Miranda (Cassandra McGrath) with her. Laura takes up a job as the town's magistrate, where she discovers life is not as uneventful in a small town as she might have expected.
In this episode, Laura continues to feel an outsider in the community and turns to Diver Dan (David Wenham) for advice on how to fit in. Meanwhile, a car flies off the town's condemned bridge in the middle of the night after a rowdy drinking session at the local pub. Who was driving? The evidence mounts against popular garbage man Reg (Bill Young). The pressure is on Laura to 'do the right thing' by a good bloke and let him off with a warning when his case comes to trial. Will she turn a blind eye to his actions to gain acceptance in the community?
Curator's notes
This series about a woman's 'sea change' from city to coast in search of a more meaningful life was an unprecedented hit for the ABC. Gaining record-breaking audiences for a non-commercial drama, it became the most popular Australian series on air and one of those rare programs that can reasonably be referred to as a phenomenon – the kind that becomes a discussion topic from week to week. Piggyback news stories speculated on real sea change trends, reporting soaring house prices around the show's main Barwon Heads shooting location.
The basic premise is classic: an outsider enters a small community and gets to know the eccentric characters living there. By proxy, the audience does the same. This process of getting acquainted with an ensemble of distinctive, likeable characters accounts for some of the show's success. Sigrid Thornton brings a nice touch of bumbling physical comedy to her starring role as the perpetually harried Laura Gibson and her fellow cast members deliver performances similarly laced with comedy. The style of the series as a whole is comic-dramatic, rather than naturalistic.
There is something old-fashioned about SeaChange's approach to storytelling. Its moral dramas, rendering of a community's social structures and slightly larger-than-life characters bring to mind Charles Dickens or Jane Austen. Town villain Bob Jelly (John Howard) has an archetypal dimension; defined by greed and weakness, Jelly is also somehow human and likeable. The classic 'village idiot' or Shakespearian fool is present in the form of Kev (Kevin Harrington), a sweet-natured simpleton who provides a brief monologue at the end of each episode, as he and his son stare out to sea.
Along with Kev, a number of characters occasionally act as a 'chorus', providing philosophical observations regarding the goings on around them. They include Diver Dan, publican Meredith (Jill Forster) and Laura's daughter Miranda. Probably the most naturalistic character, Miranda captures her surroundings with a camcorder. It sometimes feels like she's the show's real protagonist. Her name is one of several references to Shakespeare's The Tempest, another story of 'exile' in an isolated seaside place, from which the expression 'sea change' is thought to originate ('Full fathom five thy father lies … Nothing of him that doth fade, But doth suffer a sea-change Into something rich and strange': Act I Scene ii).
SeaChange's storylines often focus on characters' struggles with right and wrong and their attempts to understand what it means to live a good life. As with many legal or police dramas, the courtroom over which Laura presides becomes a focal point. The small community adds a nice twist to this scenario: characters who are enemies by day will still see each other over beers at the pub in the evening (see also The Circuit – It's a Long Way Home, 2007, about a city lawyer who moves to Broome). Many episodes create a tension between the rule of law and the rules of community and friendship. While some show Laura learning to value 'country ways' over doing things by the book, One of the Gang reasserts the value of detached legal judgment in certain situations and poses questions about taking the desire to belong too far.
SeaChange ran for 39 episodes over three series in 1998-2000. One of the Gang is episode six of the first series. With audiences that sometimes topped two million, SeaChange knocked current affairs show 60 Minutes (1979-current) from its previously comfortable perch atop the ratings in the Sunday night 7.30 pm family viewing timeslot, to much fanfare. After gaining a following during the first series, SeaChange became the most popular Australian drama on air for its second and third series. Its swag of awards and nominations included 1999, 2000 and 2001 Logie Awards for Most Outstanding Drama Series.