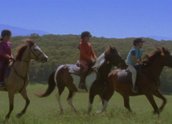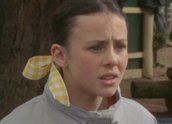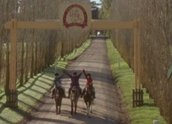 The Saddle Club – Series 1 Episode 1 (2001)
Synopsis
Lisa Atwood's (Lara Jean Marshall) first day at Pine Hollow Stables begins badly when a car driven by her mother (Marie-Louise Walker) nearly collides with Pine Hollow's best students Stevie Lake (Sophie Bennett) and Carole Hanson (Keenan MacWilliam) and their horses. Snobby Veronica di Angelo (Heli Simpson) tries to befriend Lisa, but when Lisa makes a choice that foils Veronica's plan to endanger Stevie, she proves that she is not best friend material after all. By episode's end, the Saddle Club – whose members vow to remain horse crazy and to look out for each other – is officially formed.
Curator's notes
Plenty of horses, girl politics and exaggerated larger-than-life characterisations prove a winning combination in this fast-paced tween series featuring three musical girls and their ponies. Based on the novels by popular American children's author Bonnie Bryant, this opening episode sets up the main characters and central dynamics in the first of three successful series featuring the Saddle Club, their friends, enemies and ponies.
Pine Hollow Stables is the background for relationship-driven drama as the three central characters Stevie Lake, Carole Hanson and Lisa Atwood form a friendship based around their love of horses. Together they contend with the intensity of the horse scene as well as the pressures of encroaching adolescent life. This includes an ongoing battle with spoiled fellow rider Veronica di Angelo, teenage crushes, and the navigation of troubles with parents, friends and staff at the stables.
The premise of this television series taps into the common cultural theme of pre-adolescent girls' fascination with horses, perhaps due to their symbolic links with freedom, wisdom and loyalty. This notion, whether based on reality or stereotype, was critical to the success of The Saddle Club. The series's status as a co-production between Australia and Canada is reflected in the casting of main characters Stevie and Carole, both sporting somewhat unexplained Canadian accents.
The show initially aired on the ABC, debuting on 22 February 2001. It screened until 2004, with 52 episodes produced over two seasons. Series three was filmed over 2007–08, with an almost all-new cast, and screened on the Nine Network from 7 March 2009. The show was also broadcast in Canada, North America, the UK, France and Germany.