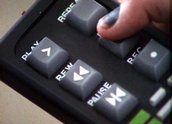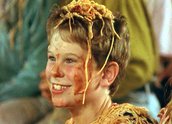 Round the Twist – Series One – Spaghetti Pig Out (1989)
Synopsis
Chaos reigns after a bolt of lightning hits the Twist family's video remote control – it now works on people! Unfortunately Gribble Junior (Lachlan Jeffrey) gets hold of it and Pete (Sam Vandenberg) is desperately trying to get it back. Meanwhile, training is in earnest for the great spaghetti-eating contest. The remote control is used by Gribble to cheat in the competition.
Curator's notes
This is a clever, very funny episode, based on a simple 'What if…' idea. There is loads of silly slapstick, and a spectacular dose of yuck at the end.
Round the Twist Series One first went to air in August 1990 on the Seven Network.