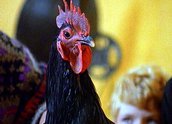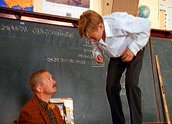 Round the Twist – Series Two – Next Time Round (1992)
Synopsis
Pete has been hypnotised by Linda and every time someone says the word 'now' he behaves like a chicken for ten seconds. Unfortunately, Linda can't undo the hypnosis so Pete gets into some serious trouble at school.
Curator's notes
This is the first episode of the second series of Round the Twist, introducing new actors in many key roles. All the young actors changed as the original child actors were now too old to play their characters. The actors playing the roles of Mr Gribble and Matron Gribble also changed with Mark Mitchell taking on the role of Mr Gribble with his customary gusto. Mitchell created a larger than life Mr Gribble and remained a constant throughout the following series. This change of cast didn't appear to impact on the popularity of Round the Twist.
Round the Twist Series Two first went to air on the ABC on 20 March 1993.