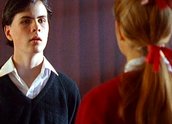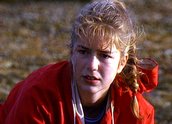 Round the Twist – Series Two – Nails (1992)
Synopsis
Linda (Joelene Crnogorac) is attracted to Andrew (Eamonn Kelly), a mysterious new boy at school who never removes his gloves. Andrew lives on an island with his grumpy father Mr Shelford (Peter Bensley). Linda discovers Andrew's hands are covered with fingernails and more are growing each day – just one symptom of a mysterious ailment that culminates in Andrew no longer being able to walk. When Andrew leaps from the wheelchair into the sea to save his father, Linda discovers the truth – he has turned into a merman. It's time for him to join his mermaid mother (Cheryle Street). Andrew and Linda say a sad goodbye.
Curator's notes
This episode is quite different from many others in the Round the Twist series. While it still has lots of humour, it is more serious and is a romantic and rather sad story.
Round the Twist Series Two first went to air on the ABC on 20 March 1993.