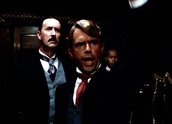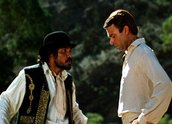 Robbery Under Arms (1985)
Synopsis
The Marston brothers, Dick (Steve Vidler) and Jim (Chris Cummins), are wild young men from the bush during the reign of Queen Victoria, who turn to a life of bushranging at the toss of a coin. Captain Starlight (Sam Neill), who leads the gang, warns them to reflect on their decision because there will be no turning back, but they are young and impetuous. What happens next makes a great action-adventure story with love and mateship thrown in to further enhance the Australian bushranger myth.
Curator's notes
Robbery Under Arms was adapted from the classic Australian book of the same name written by Rolf Boldrewood, the pen-name for Thomas Alexander Browne (1826-1915). The subtitle of the book, A Story of Life and Adventure in the Bush and in the Goldfields of Australia, represents a fair summary of the drama, which has often caught the imagination of filmmakers. Before this 1985 version there had been five attempts to tell this story, the best known being the Australian–British feature film of 1957 starring Peter Finch as Captain Starlight.
The latest version has fine performances from Sam Neill as the elusive Captain Starlight with Steve Vidler and Chis Cummins as the wild colonial Marston boys. As well as evoking the difficult lives of frontier women, British imperialism is juxtaposed with the Irish Catholic colonial spirit. The issue of race is explored through the fraternal relationship between Captain Starlight and Warrigal (Tommy Lewis), an Aboriginal Australian, a relationship not so clearly defined in the 19th century novel.
No expense was spared with this lush recreation of colonial Australia during the gold rush era of the mid-19th century. The South Australian Film Corporation found half of the large budget of $7.3 million which was to be offset by the double profit opportunity of both a cinema and a television mini-series release. The rest of the budget was raised privately. The shooting took place over 20 weeks during 1984 and was filmed entirely in South Australia in the Flinders Ranges, the Adelaide Hills and the saltwater flats northwest of Adelaide.