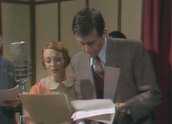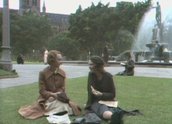 Ride On Stranger (1979)
Synopsis
This adaptation of Kylie Tennant's novel Ride on Stranger (1943) is in four one-hour parts. The first episode, 'A Country Girl', introduces the central character, Shannon Jones (Liddy Clark). Bright, stubborn and incomprehensible to her parents, she is sent to live with her well-to-do Aunt Edith (Barbara Wyndon) in the resort town of Katoomba, with an eye to future 'opportunities' that would not be available to her at home on the farm. By episode 2, 'Saints and Sinners', Beryl and Shannon have fled to Sydney. The move for Beryl is financially successful but Shannon's integrity prevents her from doing as well. Episode 3, 'Peace in Our Time', set against the threat of the Second World War, sees Shannon caught up in the idealism of a Communist front organisation. Final episode 'Bread and Circuses' sees her return to politics when Mervyn Leggatt (Peter Carroll), whom she has known since her arrival in Sydney, and Damien Quilter (Warwick Sims), with whom she has been in love for almost as long, ask for her help in an electoral campaign.
Curator's notes
Ride on Stranger makes a successful transition to the small screen. Humorous and well-paced, less iconoclastic and more romantic than Tennant's novel, it is still pleasurable and interesting viewing today. Director Carl Schultz, who does such smooth work here of exploring the many different facets of Shannon Jones's world, went on to direct the television hits The Dismissal (1983) and Bodyline (1984) and the feature film Careful, He Might Hear You (1983) which won Best Director and Best Film at the 1983 AFI Awards.
Together with production designers George Liddell and Quentin Hole, Schultz gives us a real and immediate sense of the vitality of Sydney in the years between the wars. Despite the effects of the Great Depression, the city crackles with energy; its inhabitants seem to thrive intellectually, spiritually, politically and even in some cases, commercially. We see all this through Shannon's eyes as she moves from waitressing to secretarial work, from radio studio to radical social club, from the mansions of Vaucluse and Moore Park to the back alleys of the city's slums.
The cast is full of notable names, some of whom went on to make their mark in areas other than acting. First among them is Liddy Clark, already well known for roles in The Sullivans (1976–83) and Prisoner (1979–86). Clark continued in the business with leads in Kitty and the Bagman(1983) and the series Fire (1995–96) but also became heavily involved with the actors' union. In 2001 she entered Queensland state politics, stood for and won the seat of Clayfield serving a short term as a minister in Peter Beattie's Government of 2004. Michael Aitkens who plays John Terry is a scriptwriter with credits including Midsomer Murders (1997–current). Noni Hazlehurst was made a Member of the Order of Australia in 1996 for her services to children (through her work on Playschool) and the performing arts.
Peter Yeldham neatly sculpts Tennant's great sweep of a story into four parts, assisted by script editor John Croyston (1933–2007), a high-profile director and producer with the ABC. Kylie Tennant's story had a tougher ending than the television adaptation, asserting a woman's right to solitude and independence, making it a controversial work when it was published in 1943. Kylie Tennant, interviewed in 1985 three years before her death, had particularly good advice for aspiring writers who want to know how to learn the craft: 'The only way to learn how to kill a bear is to kill a bear'.
Ride On Stranger was first broadcast on the ABC in 1979. Ratings data is not available but it's still on sale today in ABC shops suggesting an enduring popularity. Noni Hazlehurst won a Logie in 1980 for Best Supporting Actress for her sensitive portrayal of Beryl, from exuberant youth to the resigned disillusionment of middle age.