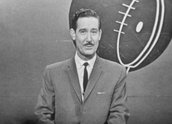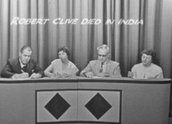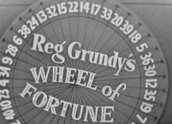 Reg Grundy's Wheel of Fortune (1959)
Synopsis
Host Reg Grundy informs viewers of the prizes to be won and introduces carry-over champion Evan Sutton. Evan earns a perfect score in the first round by answering correctly six questions about Shakespeare. Grundy spins the 'Reg Grundy Wheel of Fortune' to find the number to be matched with a prize board. Evan wins a £30 Revlon beauty kit when his opponent fails to match Evan's perfect score.
Four members of the studio audience play 'True or False' for the chance to compete against Evan in the final round. Evan returns to answer another six questions and there is another spin of the Wheel of Fortune. When the audience member who won the True or False round fails to correctly answer the six questions, Evan is crowned carry-over champion.
Curator's notes
Reg Grundy's Wheel of Fortune was a studio-based, live-to-air game show adapted from a radio quiz of the same name. It sports a minimal set, basic graphics, very simple camera coverage and a slow pace, especially compared to contemporary quiz shows. Genial host and future media magnate, Reg Grundy anchors the show in which contestants compete in a general knowledge quiz in pursuit of prizes determined by the Wheel of Fortune and supplied by local outlet Diment's of Hurstville.
Grundy navigates a simple format while asking some hard questions from specialist categories including 'Shakespeare', 'Myths and Legends' and 'Wars and Warfare'. The questions are more challenging than those you would expect on a contemporary quiz show on a commercial television channel.
The simplicity of the format and use of commercial sponsorship opportunities meant that the show was relatively cheap to produce. For this reason in the first decade of Australian TV, studio-based game shows such as Wheel of Fortune made up much of the limited Australian content otherwise dominated by American and, to a lesser degree, British programs.
Wheel of Fortune was a first foray into television both in front of and behind the camera for Reg Grundy who at the time was a radio sports commentator and game show host. Grundy pitched the show to TCN9 boss Ken G Hall in 1959, promising to host, write questions, recruit contestants, and do anything else necessary to get the show on air. Grundy's first wife, Lola, joined him as production assistant and on-camera 'hostess'. Rounding out the production team was longtime friend and collaborator John O'Grady. Following a positive phone call from programmer Bruce Gyngell after the first (unrehearsed) show went live to air, Reg Grundy Enterprises was born.
Never confident as a television host, Grundy soon became more interested in the behind-the-scenes process. Grundy recalls in his autobiography that Gyngell invited him to see a US version of Concentration (1958–79) with a view to producing an Australian version. Grundy Productions went on to make more than 80 game and quiz shows between 1959 and 1995, for every commercial network in Australia.
Prior to the introduction of video tape in the 1960s most game shows, including Wheel of Fortune, were locally produced. This is reflected here with all Sydney-based contestants and a local commercial sponsor. The spontaneous and natural feel of the show reflects the fact that these shows were usually broadcast live. The introduction of video tape in 1960 led to pre-recording five shows in a day to be screened nationally across a week. Game shows were syndicated around the country and no longer produced live-to-air.
Reg Grundy's Wheel of Fortune debuted live on TCN9 at 2 pm on 1 September 1959 and ran until 1962. This early version of Wheel of Fortune is distinct from the 1981 Wheel of Fortune which ran for 30 years and was licensed from an American format (see Wheel of Fortune – Series 3 Episode 1, 1990).