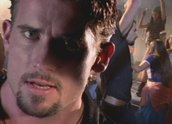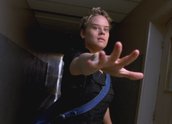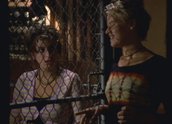 Raw FM – What You Can (1997)
Synopsis
A series revolving around community youth radio station 99.9 Raw FM and the young people who run it. In this first episode, Raw FM is launched by three unlikely friends: unemployed sound mixer Robert (Mathew Dyktynski), blind writer and musician Zelda (Nadine Garner) and sacked high-flying commercial DJ Granger (Dominic Purcell).
Driven by the death of Zelda's friend Jayse (Michael Burkett) and inspired by his dream, the trio argue as they conspire to set up a broadcast platform run by and designed for disenfranchised youth. This will be a station which is not commercially driven, is without a playlist, targeted sound or slick presenters. It will be raw.
This episode also introduces Sarah (Elena Mandalis) who, despite a stutter, wants to share her passion for music as one of the first of a new breed of Raw FM DJs.
Curator's notes
Stylistically, Raw FM's production reflects its edgy content. Fast paced, energetic, musically rich, colourful and anarchic, the episode shifts between traditional drama coverage, observational voice-over, direct-to-camera pieces and graphics. Themes of youth disenchantment, frustration at the lack of real choice for young people, discriminatory employment practices and commercial imperatives are brought to life through the points of view of an ensemble cast who are not your usual soap opera suspects.
An early example of television aimed squarely at a youth demographic in Australia, Raw FM was one of a slew of dramas featuring teenage protagonists and their lives screening in Australia and overseas in the 1990s. Others include Australia's Heartbreak High (1993–98); the Canadian Degrassi High (1989–91); from the US: Beverly Hills, 90210 (1990–2000) and Dawson's Creek (1998–2003); and Grange Hill (1978–2008) and Byker Grove (1989–2006) from the UK.
The concept of Raw FM youth radio would be familiar to those followers of ABC radio station Double Jay which launched in 1974 as a precursor to contemporary youth network triple j. Like Raw FM, Double Jay's programming policies were a radical departure from the commercial radio stations of the day. One of the first rock stations to hire female DJs, Double Jay also gave presenters greater choice in choosing the music they played and involved cooperative collaboration in programming decisions.
The station proved very popular with its youth demographic. It also enjoyed its fair share of controversy starting on day one of broadcast when the first song to be played was Skyhooks' 'You Just Like Me Cos I'm Good in Bed'. Double Jay morphed into 2JJJ 'radio that bites' in the 1980s and later triple j which expanded to become a national youth network in 1989.
The cast of Raw FM includes Nadine Garner, who has worked steadily in Australian television and film since she debuted in The Henderson Kids (1985). Raw FM also gave Dominic Purcell his first major role on television. Purcell later moved to the US where he's appeared regularly on TV and film including a starring role in Prison Break (2005–09).
Sue Masters, executive producer for Raw FM, is one of Australia's most accomplished producers. She has served as Head of Drama at Network Ten and the ABC and Supervising Executive Producer for Comedy and Drama with SBS. Her many credits include Brides of Christ (1991), Seachange (see SeaChange – One of the Gang, 1998) and The Incredible Journey of Mary Bryant (2004).
What You Can is episode 1 of Raw FM and aired on the ABC on Tuesday 18 November 1997. Episode 13, the final in the series, aired on 10 February 1998.