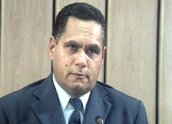 Police State (1989)
Synopsis
On 26 May 1987 a Commission of Inquiry was established to investigate allegations of police corruption in Queensland. This telemovie tells the story of how the Commission's president Tony Fitzgerald (Nick Tate) and the counsel assisting the Commission Gary Crooke QC (Lewis Fitz-Gerald) brought to an end decades of crime and corruption in the Sunshine State during the premiership of Joh Bjelke-Petersen.
Curator's notes
The script for this docu-drama style telemovie was developed using the transcripts from the Fitzgerald Inquiry into Queensland Police corruption – a judicial inquiry presided over by Tony Fitzgerald QC. The inquiry was established in response to a series of articles on police corruption in The Courier-Mail, followed by a Four Corners report, The Moonlight State, by reporter Chris Masters which aired in May 1987.
The transcripts were used to recreate scenes that were intercut with actual news and current affairs footage from the Bjelke-Petersen era. Police State was followed by the equally successful Police Crop and Joh's Jury, also docu-drama telemovies.
All three were written by Ian David, one of Australia's best-known screenwriters who pioneered this style of television drama in Australia. He came from Perth to attend the Australian Film and Television School and stayed on to make his career in Sydney. His ground-breaking telemovies Police State and Police Crop won AFI awards in 1989 and 1990 for best Mini Series-Telemovie and Best Screen Play for a Miniseries- Telemovie. In 1992 he followed up with Joh's Jury winning an AWGIE for Best Television Screenplay and in 1995 his 3-hour miniseries Blue Murder, one of Australia's most outstanding dramas, was winner of the 1996 Logie Award for Most Outstanding Television Drama and an AWGIE for Best Television Screenplay along with an AFI for Best Screenplay. In 2001 Ian David received the Byron Kennedy Award.
The director of this searing drama is Chris Noonan. He went on to direct Police Crop the following year with many of the same team including writer Ian David. Chris Noonan is perhaps best known for the feature film Babe (1995), which he directed with producer George Miller. Miller and Noonan had worked together during the halcyon days of the Kennedy Miller miniseries' in the 1980s, on such magnificent dramas as Vietnam and Cowra Breakout.