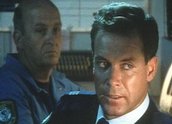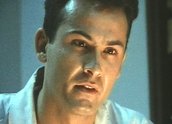 Police Rescue – By the Book (1990)
Synopsis
Georgia Rattray (Sonia Todd) and Micky McClintock (Gary Sweet) are attracted to each other and drifting towards a sexual relationship. Then, while McClintock is acting boss of the squad for a couple of weeks, he finds himself having to protect Rattray from intense criticism over a tough decision she's just made in the course of a police rescue.
Curator's notes
Police Rescue was a popular series broadcast in prime time on the ABC during the 1990s. Each week a different moral theme is thrown up and resolved so that the series offers much more than a weekly tale of the daring deeds of the police rescue squad. This week's theme explores whether it's possible to have a sexual relationship with a colleague at work. The story is a little contrived but it moves along at a cracking pace and makes some strong comments about modern couples.
The complexity of Georgia's wanting to be an equal in a male dominated world is the contemporary theme that's examined but not in a way that draws an obvious moral lesson. There are twists and turns that keep us guessing to the end as to whether she'll be forced out of the squad or whether she and Micky will agree to remain friends but not lovers.
For years the ABC had been building up a drama department of skilled crews experienced with high-end drama, which it was then able to offer in any co-production deal; staff and facilities were the ABC's input into the deal with the cash input of a partner. Towards the end of the 1980s, when money was becoming tighter, Sandra Levy, then Head of Drama at the ABC, managed to produce a telemovie pilot of Police Rescue entirely in-house, to attract an overseas co-production partner, in this case the BBC. In the end, five series, the telemovie and a feature film were made with the BBC, the ABC and Southern Star.