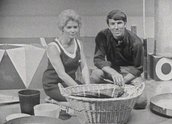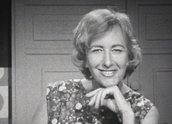 Play School – Trains Thursday (1969)
Synopsis
Don (Spencer) and Anne (Haddy) make a steam train out of a washing basket, plant pot, two 'clean' rubbish-tin lids and part of a garden rake. Passengers Big Ted, Little Ted and Humpty get on board. Then Ruth (Cracknell) tells the story of a 'dilly dally man', Anne invites the children at home to participate as she sings 'Johnny works with one hammer' and there's a look through the round window.
Curator's notes
Many of the classic elements of Play School are evident in this early black-and-white episode including the much-loved theme song, clock, calendar and window devices. There is simplicity in terms of content, communication style and pace as well as the essence of what makes Play School so special for its young viewers: presenters relating on a personal level to their audience by talking directly through the camera to the child at home.
This episode was number 114 of the 1969 series. Play School was initially recorded and transmitted in black-and-white, as colour television only arrived in Australia on 1 March 1975. The first colour episode of Play School was transmitted on 28 June 1976.
Play School continues to air on ABC1 and also ABC4Kids.