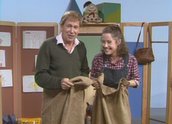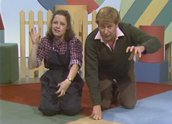 Play School – Bags Wednesday (1984)
Synopsis
Noni (Hazlehurst) and John (Hamblin) compete in a sack race then invite the children at home to sing and jump with them. Noni feeds a tiger, elephant and seal version of John in a 'pretend' zoo. John reads a book and then Noni recaps the story to the tune of 'If you are happy and you know it'. A shadow puppet animation is followed by a visit through the square window to see garbage being collected by boat in Sydney Harbour. Noni and John then make a garbage boat out of blocks and sing a 'pick up the litter' song.
Curator's notes
This episode demonstrates the intricate layering of themes and sub-themes in a program which appears spontaneous and even unplanned. Layers of content informed by a weekly theme (bags), daily theme (cleaning up mess) and the regular Wednesday program's focus on pets provides a richly layered and interlinked program. Utilising minimal prop elements and plenty of imagination and invention, this program also demonstrates how two masters of the art of Play School presenting 'encourage a child to wonder, to think, to feel and to imagine' (from Play School online notes).
Play School presenting, like everything else about the program, looks deceptively simple, and yet very few actors are able to achieve John and Noni's level of honesty and connection with the audience. In a radio interview in 2004 another iconic Play School presenter, Benita Collings (the most prolific, having recorded 401 episodes between 1959 and 1999), admitted 'I've never had any difficulty talking to inanimate objects, it appears. So talking to a camera was absolutely fine.' Lorraine Bayley said of her experience of working as a presenter on the show, 'It was such a release, because so many of us still have this silliness in us, and I think it's something that's treasured.'
Henrietta Clark, who worked on the program as producer, writer and executive producer between 1968 and 1999, commented that 'In the very early days, it was very hard for actors to work out what Play School was all about. They thought of it as a television program for children, so they'd do silly voices and things like that.'
Master of irreverent humour and double entendres John Hamblin (presenter 1970–98) remembers his first impression of Play School: 'I'd seen it in England, and I didn't like it. I don't know how anyone could really go along and say, "Hello, I'm John. Let's look in the useful box and play with our balls."' However, luckily for audiences young and old, he then recalls: 'And then I walked into that studio, and there were the toys, the blocks – everything. And the presenters – two females … I thought, "Lots of things to play with."'
This episode is number 833 of series 197. Play School continues to air on ABC1 and also ABC4Kids.