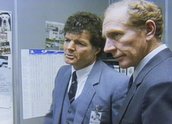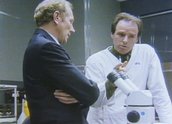 Phoenix – Top Quality Crims (1991)
Synopsis
Phoenix is a procedural drama telling the story of the investigation into the 1986 bombing of the Victorian Police Headquarters, commonly known as the 'Russell Street bombing'. Told from the perspective of the Major Crime Squad who investigated the crime, this first episode introduces us to the members of the Major Crime Squad.
Head of the squad, Inspector Jock Brennan (Paul Sonkkila) tries to bring a family of vicious armed hold-up men to justice, while at the same time dealing with the break-up of his own marriage. Brennan, an old-fashioned cop who believes in the tried and true methods of informants and coercion, is disconcerted to find that a new science, in the person of eccentric metallurgist Ian Cochrane (Sean Scully), holds the clue to convicting the suspects.
Curator's notes
Phoenix was a major step forward in police drama in Australia. It set a new style that has influenced police drama ever since. As an ensemble piece depicting real-life cops it echoed ground-breaking series like NBC's Hill Street Blues (1981–87) but is more documentary-like in both dialogue and narrative.
Its focus on investigative procedure was a first on our screens, particularly the depiction of forensic science. Co-creator and writer Alison Nisselle's research is meticulous and reflects her background as both a journalist and a writer from the Crawfords stable. Nisselle's primary source was a former CIB Detective, Gordon Davie, who led the investigation into the Russell Street bombing.
The result is a close investigation of the world of the Major Crime Squad: the difficulties they faced with a hierarchy more interested in politics than the law, and magistrates understandably concerned with the civil rights of the criminal class after a series of police shootings earlier in the 1980s.
The tension between Brennan and Cochrane as to methods of detection is a source of humour rather than conflict; an old dog coming to terms with new tricks, which he is nevertheless more than happy to embrace if they will get him his man (see clip two). This is a team united by a common goal, common obstacles and ever-present danger.
Central to the show's success is producer Bill Hughes, who embraced the creative potential of the new technology on offer: smaller cameras, for example, capable of shooting in low light (see clip one) and advanced non-linear editing, which allowed for fast, experimental cutting that could be revised without loss of footage or picture quality. The result was a new look for police drama in Australia, volatile and spontaneous.
Phoenix was produced in Melbourne in 1991 and first went to air on the ABC nationally in February 1992. The first series of 13 episodes was so successful both critically and commercially that a second series followed in 1993. A spin-off series, Janus (1994), concentrated on courtroom procedure rather than the Major Crime Squad's policing as depicted in Phoenix. Over the course of 1992–93, the two series of Phoenix won an APRA Music Award for composer Paul Grabowsky, two AFI Awards for producer Bill Hughes and two Logies for Most Outstanding Drama.