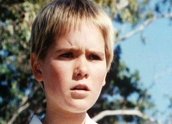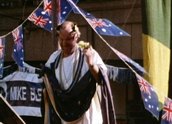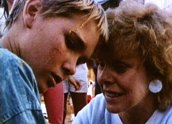 Touch the Sun – Peter & Pompey (1988)
Synopsis
In a cave, near a small coastal town in Queensland, Peter (Clayton Williamson) finds the manuscript of Pompey (Aaron Ferguson), a young Roman boy from the past. Peter asks Margaret (Kate McDonald) to translate Pompey's story from Latin, and it leads them to an ancient Roman boat. When their secret is discovered, the tiny town of Gamma changes overnight into a hyped-up tourist centre and Peter hates what is happening.
As the manuscript reveals Pompey's story, the children discover the boat will curse anyone who comes into contact with it. Peter struggles alone to release the curse and save Pompey, until Margaret and Wayne realise that they too don't like what is happening to their parents and to their town. The children decide that in order to save Gamma they must destroy the boat.
Curator's notes
This lovely film has a delightful ocker Aussie feel, and is a quirky, fantastic yarn filled with mystery, greed, loyalty, betrayal, ancient curses and Roman history, with lots of laughs provided by the children's larger-than-life parents.
One of the Touch the Sun telemovies produced for the Australian Bicentennial celebrations in 1988, this film is set in Queensland to represent that state but it was actually shot in New South Wales as at the time, Queensland was the only state government not funding the ACTF.