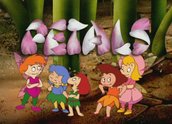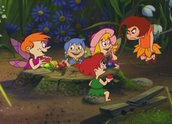 Petals – A Boot Full of Petals (1997)
Synopsis
In this first episode, the Petals find a mysterious object (a bright yellow gumboot) in their garden. Each character responds in their own unique way and soon they all find themselves trapped inside.
Curator's notes
'In an old and run-down part of town,
Where a cat named Jeffrey hangs around,
There is a garden overgrown,
And five little petals who call it home.'
At the bottom of an overgrown garden live five miniature flower 'petals': daredevil Boronia (voiced by Celia Ireland), Bougie the inventor (Brian Meegan), a forgetful artist Poppy (Gabby Milgate), collector Notsy (Michelle Doake) and an intrepid explorer called Imp (Adam Kronenberg). Joining them in their adventures are Ant and Spider (both voiced by Lucinda Armour), Cicada and Worm (voiced by Tim Mieville), as well as a playful cat called Jeffrey.
Creator and executive producer Mark Barnard says that the inspiration for the series came from a need to balance the dominance of 'blokey' animations such as Bob the Builder (1999–current) and Thomas the Tank Engine and Friends (1984–current) broadcast in the 1990s for preschoolers. Petals was designed to be softer and is skewed towards a young female audience. The characters come from the long tradition of fairies imagined at the bottom of the garden, and both the look and feel of the characters were based on plant species including boronia, poppies, and forget-me-nots.
Petals is the first in-house fully animated children's program commissioned and funded by the ABC. The series was devised by ABC staff and all scriptwriting, design and animation stages were coordinated and driven by the ABC. Whereas in most children's animations the work is largely produced overseas, Petals was animated entirely in Australia by local company Catflap, established in 1988 by animation director Maurice Giacomini.