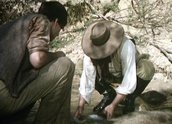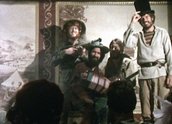 Peach's Gold – Finders Keepers (1983)
Synopsis
The discovery of gold in California in 1849 started a huge rush to the goldfields of the United States, including thousands of Australians. Among them was Edward Hammond Hargraves who returned shortly afterwards to his native Australia to try his luck around Bathurst, across the Blue Mountains in New South Wales. What he found with his assistant from the local area, John Lister, started a gold rush that would change the course of Australian history.
Curator's notes
Bill Peach, the writer and presenter of this series, became a household name in Australia during the years he presented This Day Tonight for the ABC. This Day Tonight (1968-1978) was Australia's first nightly current affairs program. When he left the program after 8 years, Peach made the ten-part thirty minute documentary series Peach's Australia (1975-1976), which examined the history and development of different regions of the continent. He followed that success with a series of five one hour programs called Peach's Gold (1983) and completed the trilogy with Peach's Explorers (1984) (10 × 30 minutes).
As with Peach's Australia, this series skilfully blends the use of actors, recreations of events and a range of lithographs and paintings from those times, with songs and newspaper headlines, to bring the era alive. It's a lively way to learn about history.